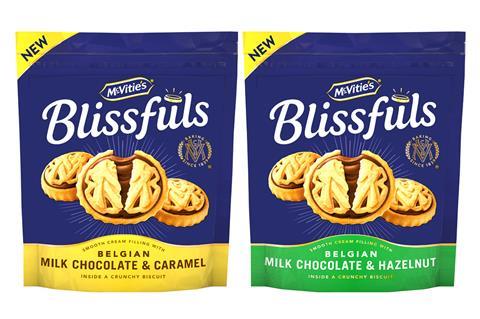 Pladis is taking its McVitie's brand into bagged treats with a new brand called McVitie's Blissfuls.
The treats comprise a baked McVitie's biscuit encasing a Belgian milk chocolate centre flavoured with either hazelnut or caramel, topped with a baked biscuit lid, and are billed as offering a "decadent new snacking experience".
They will roll out in 228g sharing packs, which the brand said recognised "the important role biscuits play in social connection" and would "enhance relevance for sweet biscuits during the evening snacking occasion" (rsp: £2.59). Packs will be recyclable via TerraCycle.
The launch will be backed by a marketing push targeting younger adults, with the brand hoping to "unlock incremental sales by both extending the brand's appeal to new consumers and increasing its relevance at new times of the day", said Pladis.
There was "an untapped opportunity for sweet biscuits during the evening, where they currently under-index compared with other sweet snacking categories", said McVitie's marketing director David Titman.
"This means NPD specifically developed for this consumption moment could help drive huge incremental sales for the category."
However the launch comes on the back of a challenging year in the supermarkets for the McVitie's brand, which saw 6.4% of its values sales wiped away in the 52 weeks to 11 September 2021 – a £29.3m decline, on volumes down 9.5% [NielsenIQ].
It wasn't alone in its decline, though. The total sweet biscuits category declined as brands struggled to match the high sales of 2020 – total category sales were down 3.1%, equivalent to a £53.4m decline [NielsenIQ].