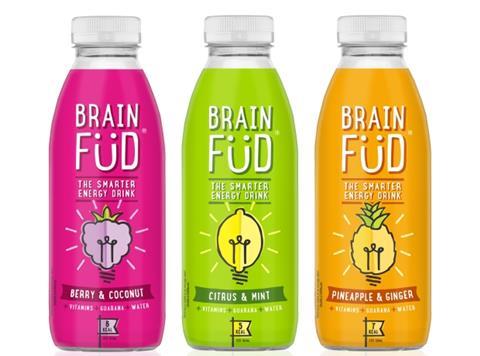 A new natural energy drink brand is promising to give shoppers a healthy kick with its trio of vitamin-enhanced low-sugar beverages.

Launching into Ocado in early November, Brain Füd contains vitamins B5, B6, B9, B12, D, zinc and magnesium, as well as caffeine from the guarana plant, to help reduce tiredness and fatigue naturally.

The range comprises Berry & Coconut, Pineapple & Ginger and Citrus & Mint (rsp: £1.59/500ml), with each containing less than 1g of naturally occurring sugars per 100ml, and no artificial sweeteners or additives.

Brand founder Philip Udeh, who suffers from chronic fatigue due to sickle cell disease, said he launched the brand after searching for an alternative to the "frighteningly unhealthy" sugar-filled energy drinks currently available.

"Brain Füd provides a smarter energy option, helping you to achieve your goals, naturally," he said. "Our drinks will give you that morning spring in your step, a natural boost before or after a workout, and help you to beat that afternoon slump."
The brand will also be available through Amazon.