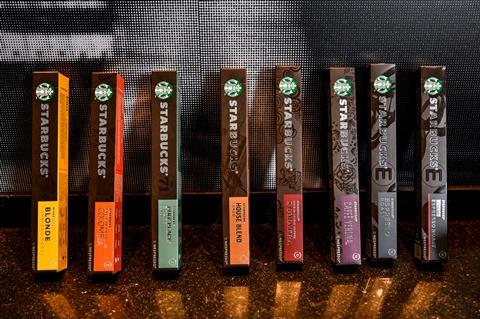 Nestlé has teamed up with Starbucks on a range of branded Nespresso coffees.
The range, called Starbucks by Nespresso, features eight flavours – Blonde Espresso Roast, Colombia, House Blend, Pike Place, Sumatra, Caffe Verona, Espresso Roast, and Decaf Espresso Roast – which will roll out in sleeves of 10 capsules across the mults from 2 September (rsp: £3.30). Sumatra will be exclusive to Tesco.
It is the first time Nestlé has used its Nespresso aluminium capsule technology outside its Nespresso business.
The NPD was "a great example of our business focusing on coffee as a high-growth area. It's just the latest in our long series of upcoming and exciting coffee innovations; there is lots more to come", said Nestlé beverage division MD Neil Stephens.
However, it is not the first time Nestlé and Starbucks have worked together on a coffee: Nestlé launched a series of Starbucks coffee pods for its Nescafé Dolce Gusto brand earlier this year.
Nestlé bought the rights to produce Starbucks-branded products – apart from RTDs – in a massive $7.1bn (£5.5bn) deal in 2018.