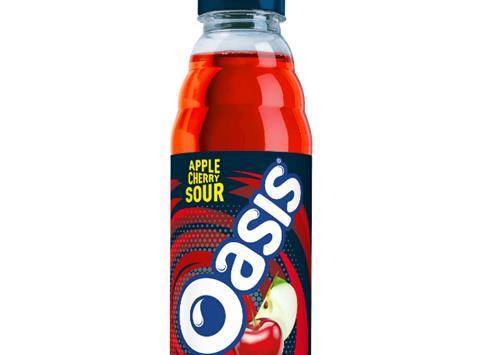 Coca-Cola European Partners is introducing two sour variants to its core Oasis range, in a move the soft drinks giant described as a "sour first" for juice drinks.
The launch will see Kiwi Apple Sour and Apple Cherry Sour debut this month in a 500ml bottle format with an rsp of £1.25 and in a £1 PMP, backed by a yearlong multimillion-pound push for the Oasis portfolio, which includes Oasis Zero (the rebranded Oasis Light).
Aimed at younger consumers, ads will feature "quirky" straplines including "It's New, It's Sour, It's Not Going to Buy Itself", "Oasis Zero: The Best Thing With Sliced Bread", and 'The Best Lunchtime Drink Since You Last Drank Oasis". The activity is set to be supported by digital, PR and experiential sampling in city centres, NUS venues, festivals and 'disruptive' locations.
The investment was "another example of how we are energising our portfolio of leading brands to ensure they remain relevant to consumers", said Simon Harrison, CCEP's GB operational marketing director.
"The new variants will help retailers meet the growing trend for interesting flavours and on-the-go refreshment, providing consumers with a seven-strong range to choose from."