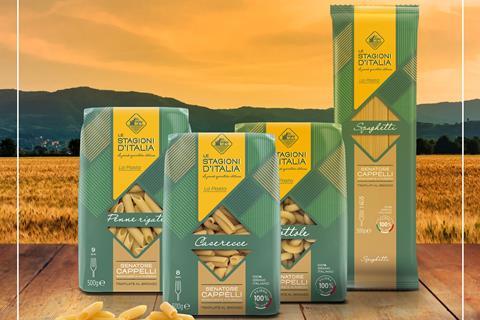 Italian pasta brand Le Stagioni d'Italia has launched into UK supermarkets ahead of schedule as Brits stock up on dried pasta.

The brand was due to debut in later in the year but had Sainsbury's and Asda listings brought forward as demand for dried pasta soared amid the Covid-19 outbreak.

It said after speaking with the retailers "it was clear there was demand for the pasta and the brand" so it put logistics and distribution in place to ensure stores received the pasta as quickly as possible.

It has gained listings at Sainsbury's for its traditional pasta range (rsp: from £1.50/500g) - which includes penne rigate, spaghetti, fusilli and rigatoni - as well as its arborio and carnaroli rices (rsp: £2.60/1kg).

Asda, meanwhile, is stocking its signature Senatore Cappelli pasta range (rsp: from £1.50/500g), which the brand claims has a "purer grain and production process which makes it easier to digest".

Export manager Lorenzo Fontana said Le Stagioni was "proud to bring our range of pasta and rice products to the UK at a time when mealtimes and sharing good food has never been more important".