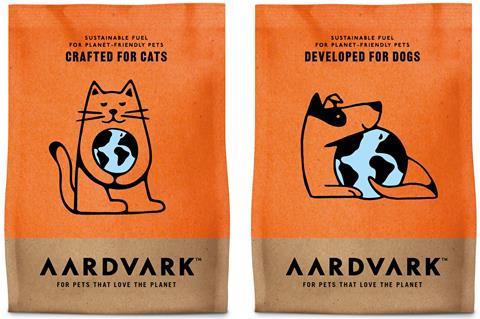 Startup Aardvark is set to make its grocery debut this month with a range of petfood made from insects.
The brand will roll out a two-strong range of dry food – one for dogs and the other for cats – via direct-to-consumer from 26 April, with prices from £8.09.
Packed in paper bags that are both recyclable and compostable, they are made from black soldier fly meal mixed with the likes of seaweed and sweet potato. "We've worked with world-leading vets and nutritionists to make sure every ingredient is there for a reason," said Aardvark founder Hugo Walters.
"There's a huge amount of benefits that come with insect protein," he added. "It's far better [than meat] for dogs and cats with sensitive stomachs." Plus, it was more sustainable through not containing meat, he added. "Petfood is responsible for about a quarter of the environmental damage associated with the meat industry."
The launch has largely been funded by the crowd. Aardvark took to Crowdcube last summer to raise £50k. It eventually raised six times the amount.
The startup now has 912 investors, as it looks to expand its offer with the likes of wet meals and age-specific food. The brand may also consider plant-based products, Walters said. They would be for dogs only because cats "can't extract protein from a plant-based diet".
Aardvark's debut comes after Mars Petcare last month unveiled Lovebug, a new catfood brand made exclusively from black soldier flies – making it the first 100% insect-based catfood to be launched in the UK by a major supplier.