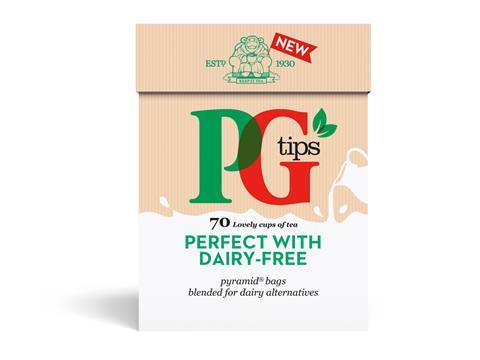 PG Tips this week became the UK's first leading tea brand to launch a blend especially for drinking with non-dairy milk.

Called Perfect with Dairy-Free (rsp: £2.60/70 bags), the new black tea had been specially crafted so it "perfectly complements dairy-free alternatives" said PG Tips owner Unilever.

Perfect with Dairy-Free's rollout on 5 March will come on the back of the free-from category's irresistible rise. Last year, it added 18.7% in value sales to become worth £929.6m on volumes up 17.2% [Nielsen 52 w/e 9 September 2017].

Free-from leader Alpro welcomed the launch of PG Tips' latest blend. It heralded "even more choices being made available for shoppers" said Vicky Upton, Alpro's head of marketing.

But Dr Gill Hart, scientific director at YorkTest Laboratories, cautioned that the new tea was likely to have little effect on the taste of a brew with dairy-free milk.

A consumer experiment by the lab using ­different free-from milks with the same type of tea found "differences in aroma and taste varied wildly" she said. "I'd therefore suggest that it is probably the type of milk used that has the biggest bearing on the quality of the cuppa."

Perfect with Dairy-Free is just the latest attempt by PG Tips to return value to the tea category, as standard black tea continues to fall out of favour with Brits. It previously added fruit, herbal and green teas, which saw an 18.5% value sales surge in 2016 [Nielsen 52 w/e 31 December 2016] - before suffering a raft of delistings last year in Tesco.