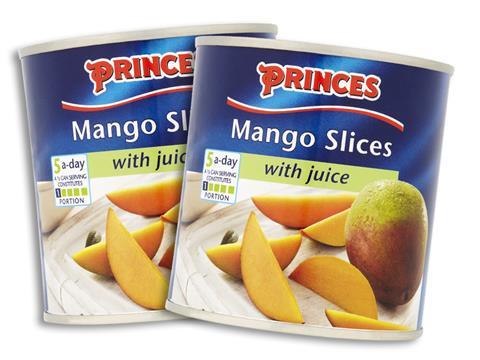 Princes is to revamp its canned fruit range this year - with an emphasis on sugar reduction - starting with the launch of a new mango slice with juice variant.

The new SKU would replace the brand's syrup-based equivalent and would start rolling out in Morrisons and Waitrose over the next few weeks, Princes said.

The shift away from a syrup base means a portion of mango slices with juice counts towards one of the 5 a day.
Consumer research by the brand found that 63% of canned fruit shoppers now preferred to buy juice-based products as part of a balanced diet, with the revamped mango line marking the "start of a range-wide shift" away from syrup-based canned fruit (to align with the research), said marketing director Neil Brownbill.

"We are looking forward to further developing and refining our canned fruit range in 2017 in response to growing consumer trends, in particular the continued interest in healthy eating.

Princes is also developing its small can range by replacing its 220g peach slices with juice variant with an equivalent can size of peach chunks with juice, available now in Morrison's. The move was designed to reinforce the low wastage and convenience benefits associated with single serve can sizes, especially for the breakfast occasion, it said.

The brand will also revamp its Fruit Fillings range this year, with new and improved recipes reducing sugar content by up to 25%.

"We have worked hard to communicate the benefits of Princes Fruit with Juice to medium and lighter shoppers, with endorsement from TV dietician Lucy Jones," Brownbill added. "We are continually improving the range to maximise its appeal in line with what consumers are looking for."

The Princes canned fruit business is currently ranked second in the UK, behind Del Monte, however the brand saw sales fall by 7.7% last year to just under £17m [The Grocer Top Products/Nielsen 52 w/e 24 September 2016].