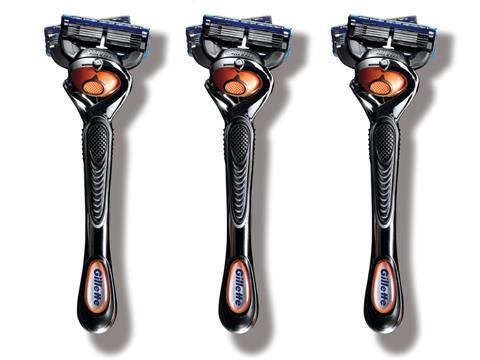 Procter & Gamble is to launch a new version of its Gillette Fusion ProGlide razor next year - and is also exploring whether British men would buy a razor to shave their body hair.

The Fusion ProGlide with FlexBall technology is expected to roll out in the UK early next year. Launched in the US this summer, the razor features blades that pivot on a ball, which P&G claims keeps the blade cartridge in constant contact with the face.

P&G UK boss Irwin Lee, this week's guest editor of The Grocer, revealed FlexBall had been developed at the fmcg giant's innovation centre in Reading.

"A lot of our NPD originates with British scientists," he said, adding the FlexBall razor was already performing well in the US market.

P&G is also mulling a UK rollout of a men's razor for shaving body hair. It launched the Gillette Body razor in the US in February after research showed 73% of American men had shaved or trimmed some part of their body.

The launch of Gillette Body - which boasts a rounded head for "increased manoeuvrability" and allowing the razor to "move through even the tightest spaces" - was supported with a series of "How To Shave…" YouTube videos.

Lee said P&G was exploring the opportunity for such a product in the UK. "Attitudes to body grooming differ by country; it is not definite that it will launch in the UK," he added.

King of Shaves launched the Prostyle Bodystyler Razor - to groom the body - in Tesco stores last summer.