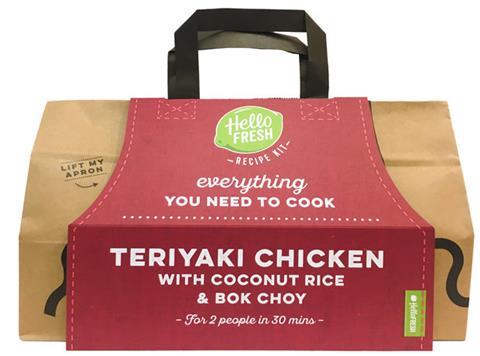 Recipe box service HelloFresh is breaking into the retail environment by launching its meal kits in Sainsbury's.
The company will introduce £10 meal kits for two into 35 Sainsbury's stores in London and the South East this week.
The HelloFresh Go kits will eventually roll out across Sainsbury's branches nationwide, although there is no target date.
The supermarket range will initially include five recipes – ranging from chicken jalfrezi with brown rice to a Mexican tomato jumble with spiced citrus halloumi – but the selection will be rotated every six weeks to "give people variation".
The £10 price point puts it right in the middle of the meal prices offered in HelloFresh's larger home delivered boxes, which range from £8 to £12 for two meals depending on the quantity ordered.
HelloFresh co-founder and head chef Patrick Drake said its monthly customer research, which includes responses from 80,000 subscribers, indicated customers would be happy with this price. "This product isn't just instinctively what we thought was correct," he told The Grocer. "The data from customer responses shows a retail product is something they want and these are the recipes they would like."
Drake said the product should stand up against cheaper microwave meals by tapping into the market for scratch cooking.
"It allows us to tap a whole new market of people who don't plan their meals in advance," he said.
Drake said the "great response" to its pop-up store in Old Street this month, which also sold meal kits at £10, gave the company confidence in its retail proposition.
Drake added that HelloFresh would spend the initial period in Sainsbury's stores gathering further insights into the retail product.
Both Waitrose and Tesco trialled their own two-person meal kits in selected stores last year priced between £8 and £12. Waitrose called a halt to its Dinner for Tonight kits after finding customers responded better to meal suggestions at meat and fish counters. It is not yet known whether Tesco will continue with its product, but it said the trial had gone "really well".