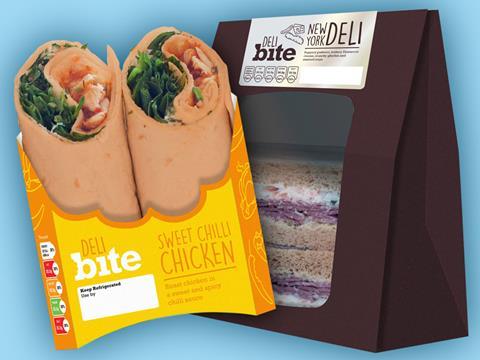 Samworth Brothers, owner of the Ginsters and Soreen brands, is hoping to grab a bigger bite of the fresh sandwich category with a new 16-strong food-to-go range.

Deli Bite, available from this week, comprises traditional sandwiches, wraps, pasta salads, paninis, filled crusty rolls, toasties and flapjacks - all made with fresh ingredients.

Prices for the products start at £1.99 for standard sandwiches, 99p for flapjacks and £2.99 for 'premium' sandwiches. All come in "simple and clear" colour-coded packs denoting the ­sandwich flavour.

By targeting busy shoppers looking for "fresh and tasty" on-the-go lunch alternatives, Samworth Brothers, which already has a sandwich business through own label and the Ginsters brand, will be going head to head with the likes of Adelie Foods' Urban Eat brand.

Deli Bite will initially be available through Ginsters Van Sales Company in channels where Samworth has 'limited presence' - including leisure facilities and garden centres - with a view to entering retailers later.

"The lunchtime category is a substantial one for us," said business development manager Alastair Johns. "Within the food to go market, sandwiches are up 4.2% on last year and the lunchtime ­staple is the core of our new brand, but we have big ambitions for Deli Bite and will be looking to expand the portfolio in the next few months."

The newcomer, developed after Samworth spotted an opportunity to unlock growth in "fast, tasty and fresh" snacks and lunches, would stand out by delivering a "consistent product", said Johns, claiming there was "a lot of variable quality across fresh sandwiches".

The launch follows Greencore extending its share of the food to go category with the acquisition of The Sandwich Factory from Cranswick for £15m.