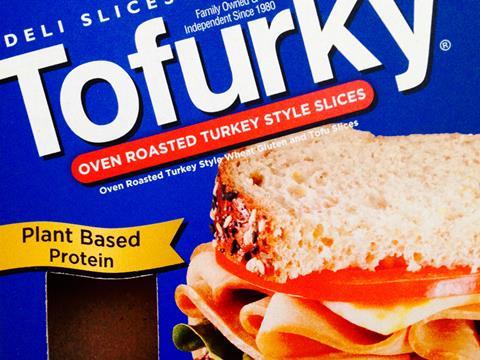 US meat alternative Tofurky will hit UK retail shelves next month as the brand looks to capitalise on Britain's booming vegetarian market.
Currently available from a number of health food wholesalers, the Tofurky range of chilled vegan deli slices, sausages and tempeh products (rsp: from £2.85) will launch into Holland & Barrett this September.
A spokeswoman for distributor Healthy Food Brands said the range would also be available shortly in Whole Foods Market and Planet Organic stores, with listings in the mults expected to follow "in due course".
Based on organic tofu and tempeh, all products in the Tofurky range are 100% vegan, free from GMOs and offer a long shelf life.
They include Oven Roasted, Hickory Smoked and Smoked Ham-Style Deli Slices, 'Artisan' and 'Gourmet' sausages in Spinach Pesto, Chick'n & Apple, Italian and Kielbasa flavours and Smokey Maple Bacon Tempeh.
Tofurky hopes the products will prove a hit with Britain's three million vegetarians and the increasing number of people reducing the amount of meat in their diets.
"We're serious about creating versatile and believable food which does good for the body, environment and animal friends alike. It's all we're about and we can't wait to share Tofurky with UK retailers," said Tofurky chairman Seth Tibbott.
"Britain is the birthplace of the modern vegetarian movement, and we are delighted to have the opportunity to introduce Tofurky to such an informed and sophisticated market."