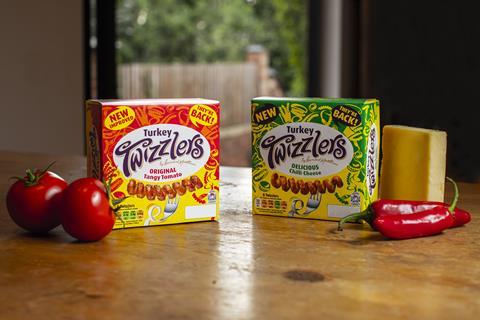 Bernard Matthews is resurrecting its infamous Turkey Twizzlers after 15 years.
The turkey giant has completely reformulated the product, which was discontinued in 2005 after high-profile criticism from Jamie Oliver and health campaigners.
The new incarnation is billed as significantly healthier: it now contains more than 70% turkey (compared with some 35% in its previous incarnation), ringing in at 87 calories per Twizzler, down from 137.
"Anybody who works for Bernard Matthews gets asked about Turkey Twizzlers – people have wanted them back," Bernard Matthews marketing and insight director David Leigh told The Grocer.
Indeed, an online petition to bring back Turkey Twizzlers, in 2018, garnered over 27,000 signatures.
"We have been developing these for just over 12 months and we have done everything we can to make them healthy," said Leigh, adding the turkey giant had made a "significant investment in capex to bring [the brand] back to market".
"It is a more premium product, with more turkey in it – the meat content has almost doubled. We worked with a nutritionist to make sure we got this right. It's healthier, tastier and for everybody."
As well as the original Tangy Tomato flavour, which has returned, the brand has created a second flavour – Chilli & Cheese – which Leigh said would be aimed at "people who are reliving their youth and who want a bit more kick, while the original has the same targeting as before".
They are both packed in recyclable boxes of eight rather than the bags used for their previous incarnation (rsp: £3).
Leigh said once schools reopened, the brand would look to relaunch them to education caterers, as well as grocery.
There was scope to expand the brand into other product and categories, he added. "One of the big problems we have as a business is that people just eat turkey once a year at Christmas, so this will help grow consumption year round."
The launch will be backed by a marketing push with the tagline "the comeback of the century".
It comes after a tumultuous decade for Bernard Matthews, which collapsed into administration in 2016 after making a £27m loss and racking up millions of pounds of debt to the multiples.
It was sold in a pre-pack to 2 Sisters Food Group owner Ranjit Singh's Boparan Private Holdings investment vehicle.
Its fortunes changed after the acquisition with the win of a major supermarket supply deal in 2018.