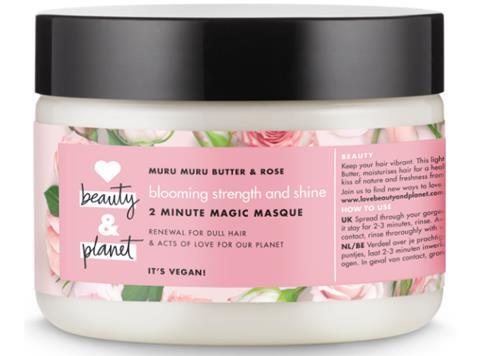 Unilever has unveiled its first new beauty & personal care brand in 20 years, with a range of hair and skin products inspired by the company's Sustainable Living Plan.
Called Love Beauty & Planet, the 12-strong lineup for women had "sustainability at its heart" according to Unilever. It had been created "to meet rising demand from consumers who are looking for more environmentally responsible products".
Every aspect of Love Beauty & Planet has been designed to reduce its environmental impact. Its plastic bottles and jars are 100% recycled and recyclable, with easy-peel labels for easy removal during the recycling process. The caps would be made from recycled plastic in the future, Unilever said.
Ingredients are ethically and sustainably sourced, while the formulations are vegan-friendly – certified by the European Vegetarian Union. Natural or plant-based ingredients are used "wherever possible", with the likes of parabens and silicones used only when they are "essential to product quality or performance".
As a further eco-commitment, the brand intends to disclose details of its annual carbon footprint each year and work to reduce it by 20% by 2020.
A portion of Love Beauty & Planet sales will be diverted to fund to support programmes that help to reduce carbon emissions and landfill waste. Details would be confirmed later, Unilever said.
With rsps from £5.99 to £9.99, Love Beauty & Planet's products for hair, face and body – which launched in the US in January – come in variants such as Murumuru Butter & Rose, Coconut Water & Mimosa Flower, and Coconut Oil & Ylang Ylang.
Their creation comes in light of Unilever's Sustainable Living Plan, which includes the aim by 2030 to halve the supplier's environmental footprint of the making and use of its products.
People increasingly wanted "to do their bit when it comes to reducing their footprint on the planet" said the company's Chris Barron, UK vice president of beauty & personal care.
"This desire is changing purchasing habits as they look to brands they believe can help them make a more positive impact. With sustainable living at the heart of everything we do, and as leaders in beauty & personal care, we identified a gap in the market for a mass beauty brand that gives a little love back to the planet, without compromising on beauty results."
Love Beauty & Planet is set to launch later this year in European markets including Finland, Belgium, Sweden, and the Netherlands.
Unilever expected it to be "incredibly popular among millennials and other environmentally conscious consumers, and also appeal to those who are starting to think about how they can make small, but positive changes as part of their everyday life" Barron added.