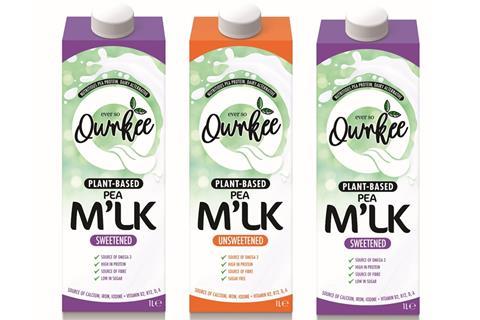 New plant-based food and drink brand Qwrkee has secured its first retail listing in Whole Foods Market.
Its first products to arrive on shelves will be a pair of pea-based milk alternatives on 16 March. The duo will become the first pea milks available in Whole Foods, pipping competitor The Mighty Society to the post by a matter of weeks.
It comes as Whole Foods' UK grocery buyer Miguel Uribe tipped pea milks as one of the "top new trends for 2019".
The brand's dairy alternatives are set to go on sale in sweetened and unsweetened variants (rsp: £3/1l). They are fortified with calcium, iron, iodine and phosphorous in addition to vitamins B2, B12, D and A.
Its composition made the drinks equivalent in protein content to dairy, and higher in calcium content, it claimed. Meanwhile, its unsweetened variant contained up to 4.7g less sugar than cow's milk, it said.
Qwrkee's pea milk used one gallon of water to make 250ml of its product, in comparison to 60 gallons for dairy milk, and produced less than 10% of the CO2, according to research by the University of Twente in the Netherlands.
Husband and wife entrepreneurs Vishal and Neha Madhu founded the brand, building on Vishal's experience in the confectionery industry and Neha's projects in hospitality. They have ambitions to follow the pea milk launch with a host of other vegan-friendly products, including jerky and probiotic vegetable puffs.
"We founded Qwrkee with a clear mission: to help protect the planet by fuelling the plant-based movement, creating foods for the future," said Vishal Madhu.
"We've taken a lot of time to develop products that deliver on taste, nutritional quality and sustainability, while bringing something completely new to the market."