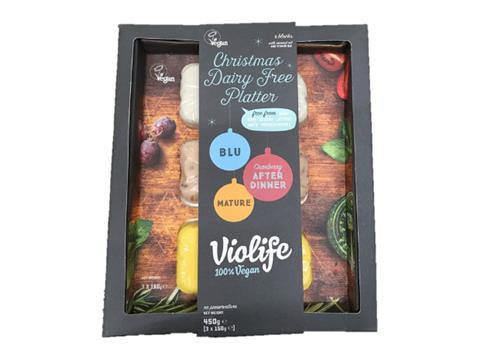 A festive vegan cheeseboard has gone on sale in Sainsbury's, as the flexitarian trend continues to bolster demand for dairy alternatives.
Greek free-from brand Violife yesterday rolled out its Christmas Dairy Free Platter, which is available from Sainsbury's at £5.50 for a 450g pack.
The platter features a trio of variants, Cranberry After Dinner, Blu and Mature, which are free from dairy, lactose, soya, nuts and gluten.
Each Vegan Society-approved block of cheese alternative is coconut oil-based with added vitamin B12. All three come in at under 280 calories per 100g.
The move further expands Violife's presence in Sainsbury's after the brand secured listings for two products in September – as the retailer extended its own label range of Deliciously Free From cheeses.
Violife's launch comes after an Informa's Agribusiness Intelligence report this week predicted a boom in dairy alternatives on the back of a rise in flexitarianism among younger shoppers. It set out "conservative estimates" for vegan and vegetarian alternative markets in the UK to surge 30% to be worth £300.6m by 2021, with milk alternatives expected to increase by 5.2%.
"Those under 30 are pioneers of flexitarianism as they step away from milk and meat due to animal welfare, environmental or health concerns," said Alan Bullion, special reports and projects director at Informa's Agribusiness Intelligence.
While alternatives were a long way from having an impact on global meat and milk markets, there was "huge investment in the area, and we're expecting strong growth in sales of alternative products", he added.