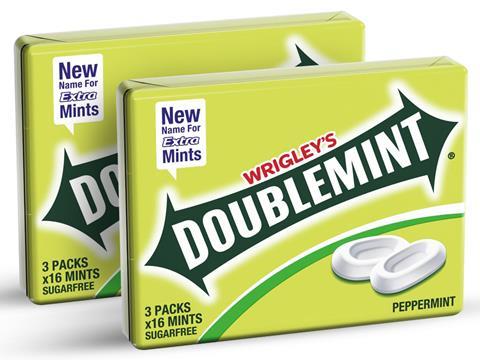 Wrigley hopes to reinvigorate its Doublemint brand by reformulating the gum as a sugar-free offering and expanding it into mints.

The 102-year-old Doublemint is one of the last Wrigley gum brands to go sugar-free, having replaced some of its sugar with artificial sweetener in 2005. The newly revamped product - available in single packs of seven sticks (rsp: 40p) - is complemented by sugar-free peppermints in a number of formats, each with a different design of sweet: single-roll pack (rsp: 48p/28g), bottle (rsp: £1.99/70 pieces) and sharing bag (rsp: £1.39/36 pieces). The roll - which also comes in a multipack of three (rsp: £1.19) - is a repackaged Extra Mints.

Supported with a £2m investment in 2016, the confectionery launch - which Wrigley hopes will add value to a mints category currently worth £182m [Nielsen 52 w/e 26 December 2015] - features a 'contemporary' redesign of the Doublemint arrow graphic and green packs.

"Doublemint has great heritage in the UK and is loved by many, which is why we're excited to launch the revitalised brand into the mint category," said Julio Guijarro, Wrigley UK marketing director. "With a variety of pack formats, the new Doublemint portfolio has something for every mint usage occasion, and with previously limited investment into the category, the launch is set to put it in growth."

Guijarro added the relaunch came after "on-the-go breath freshener, which can be enjoyed regularly" was identified as a key demand in the category.