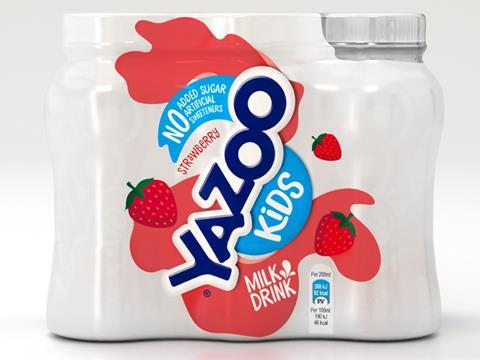 FrieslandCampina is set to relaunch its Yazoo No Added Sugar dairy drink range as Yazoo Kids.
The recipe will remain unchanged from the Yazoo No Added Sugar incarnation, but packs will now highlight that the product is a source of calcium, riboflavin and protein to better appeal to kids and parents.
The updated UHT lineup is set to roll out across the mults and independent retailers later this month, in Chocolate, Strawberry and Banana flavours (rsp: £1.60/4x200ml).
Yazoounveiled its No Added Sugar range in 2016. Friesland removed sugar from the product by splitting lactose from semi-skimmed milk into glucose and galactose, creating a taste four times sweeter than lactose alone. As a result, it was able to stop using sugar and other sweeteners.
The range was initially available in Strawberry, Banana and Toffee flavours, before the Dutch dairy co-op replaced Toffee with a Chocolate variant in October last year.
The brand is also set to adapt its positioning to market Yazoo Kids as a snack, highlighting its 92 to 96 calories per bottle, which is in line with PHE guidelines suggesting two snacks per day for children containing no more than 100 calories.
"Children are already enjoying Yazoo, but with the new packaging and name we'll be helping more parents recognise what a great snack it is," said Yazoo marketing manager Richard Duplock.
"We know that health is high on family's agenda, so we've redesigned our packaging to give shoppers peace of mind. We're also expecting to introduce new consumers to the category with this product."