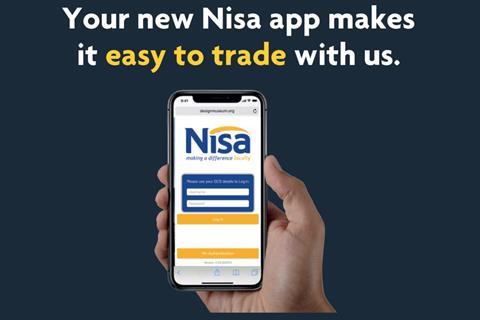 Nisa has released a mobile app to help its retailers with a range of business activities, including ordering, price checking and delivery tracking.
The app, which has launched on the App Store and Google Play, also includes 'intelligent' push notifications to direct retailers to specific products, web deals and news updates relevant to their business.
There is also a scanning function to create orders and search for products using the built-in camera on a mobile device. Nisa said it would save retailers from buying additional handheld scanning equipment.
In addition, several search tools have been added to the app to allow filtering based on commodities, price and desired margins.
"The tool has been created to provide a simple interface for regular partner activities via an easy-to-use app," said Nisa head of IT Peter Walker. "Retailers can quickly create full orders, order web deals in real time, view receipts and track deliveries physically as they are en route to store."
Walker added, the push notification feature together with a head office-based targeting system allowed the group to automatically direct retailers to specific products, promotions, web deals and news updates via one click.
"This allows notifications to be sent to specific partner groupings and demographics, providing immediate awareness of new offers which can then be ordered directly from the app by a simple click on the notification," he said.
"The ability to integrate delivery tracking is another great benefit, reducing the need for calls to the Nisa helpdesk for ETAs on deliveries in transit."
A utilities function allows retailers to calculate any combination of margin, cost or sell to help maximise profits in store.
The launch follows a trial period involving a number of Nisa partners.
"The partners who have been trialling the app have been very complimentary and have found it a very simple tool to use, providing Nisa with an exciting and effective new channel to communicate with our partners," Walker said.