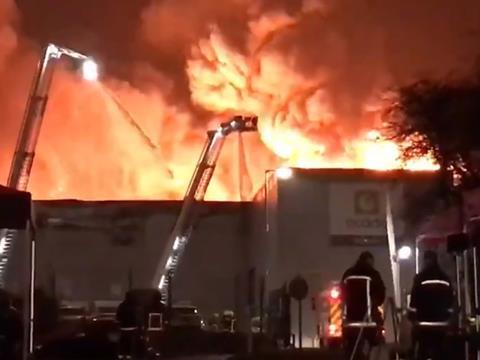 A fire at Ocado's 240,000 sq ft Andover fulfilment centre has proved worse than initially thought, spreading and causing a section of roof to collapse.

Operations at the facility remain suspended, affecting Ocado's ability to meet growing demand, the online supermarket said in an update this morning.

Andover can process around 65,000 orders week and provides about 10% of Ocado's full capacity. It's one of four Ocado UK CFCs and one of two to be automated with robots, the other being Erith, which opened last year.

The fire broke out yesterday morning in a section of the ambient grid - the name Ocado gives to the platform on which robots move to convey orders in totes.

Ocado said there would be a reduction in sales growth until the lost capacity could be taken up at other sites.

No members of the Ocado team or public had been injured and the fire brigade had succeeded in bringing the fire under control, Ocado said.
'Unfortunately the fire which started yesterday morning in a corner of the ambient grid was not contained as we believed, and last night expanded,' Ocado said in a written statement. 'Whilst we are informed by the fire brigade that it is now under control, during the night part of the roof collapsed and there has been substantial damage to the majority of the building and its contents.

'Ocado confirms that no members of the Ocado team or the public have been injured. We are very grateful to the members of the emergency services for their efforts.

'Once we have had time to assess the damage and prepare a plan to return the CFC to operation we will update further as appropriate. As Andover was providing approximately 10% of our current capacity, as a result of this incident there will be a constraint on our ability to meet our growing customer demand and there will be a reduction in sales growth until we can increase capacity elsewhere. Ocado has comprehensive insurance for the property, stock and equipment on site, and for business interruption losses.'