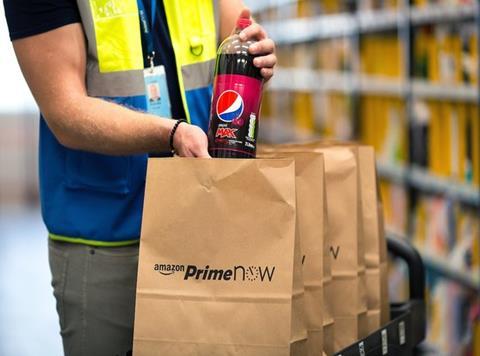 Amazon has ramped up its Prime Now express delivery service in London to include another 7,000 items from local shops.
Customers can now order health and beauty products from the Queen's pharmacy John Bell & Croyden and alcohol from Spirited Wines for delivery in one hour with Amazon Prime Now.
The move will take total number of products available on the service, which includes a number of basic grocery items such as bread, milk and cheese, to over 22,000.
Amazon Prime customers using the service can either pay £6.99 to have the products delivered delivery one hour, or select a free two-hour, same-day delivery slot.
Amazon has rapidly ramped up its Prime Now service since its launch in the capital in July 2015. Over the past 18 months, it has extended the offer to more than 30% of the UK population with launches in areas including Surrey, Birmingham, Newcastle and Manchester.
In September, Amazon announced it would offer delivery from restaurants as part of the service. Customers can choose plus from more than 180 eateries including Comptoir Libanais, Strada, Crazy Bear, Pod and Tossed.