Supermarkets have ramped up online delivery capacity this year. But Christmas is coming, and slots are already selling out
For proof that Christmas will be an online affair this year, look no further than Tesco. When the supermarket released its Christmas week slots to delivery pass holders on 13 November, shoppers wrangled with a website in meltdown and a hastily introduced virtual queueing system.
It didn't take long to hit capacity. Certain stores reached their limit in a matter of hours. "I'm afraid the slots have now gone," Tesco announced promptly.
That's despite Tesco leading the way in online investment this year. It has more than doubled capacity since the start of the crisis, with around 1.5 million slots available every week. But it simply hasn't been enough to meet the demands of this Christmas, which will see 39% of shoppers go online for their grocery shopping, according to a YouGov survey of nearly 1,000 UK adults.
"We are doing everything we can to meet the record demand this Christmas. However, we know there are still not enough slots for everyone who may want one," a Tesco spokeswoman told The Grocer.
It is telling, perhaps, that having been the star of its 2019 Christmas adverts, a Tesco delivery driver makes only a fleeting appearance in its 2020 effort. So, if even Tesco is struggling to cope, what chances do the supermarkets have of meeting online demand this Christmas? What strategies are they putting in place? And, having emerged as the heroes of the pandemic earlier in the year, what can they do to avoid becoming the turkey in December?
"We simply don't have enough slots for everyone this year"
For Tesco's part, it sought to meet the overwhelming demand by opening up a limited number of additional slots to non-pass holders last week. But they, too, were mostly "full within a few hours" the supermarket said. "There's been a huge increase in demand for online deliveries across the whole country," Tesco admitted.
It's far from the only one feeling the strain. Ocado's Christmas week slots were snapped up weeks ago, with the retailer giving little hope its 'Christmas slot booking button' would return.
"We'd love to give all our customers the Christmas slot they want, but we simply don't have enough slots for everyone this year," a spokeswoman explained.
Others are more assured. For now. Sainsbury's is "confident we will have good availability in the days ahead of Christmas, having more than doubled the number of orders we can make since March". But it hasn't yet released slots. Asda "expects the rapid growth in online shopping to continue during Q4" and is urging customers to book their slots early.
In some ways, the impact of the pandemic could make it easier for the supermarkets to meet the challenges of online delivery. Road traffic, for example, is still down more than 20% on pre-pandemic levels, according to Department for Transport figures. That can only help delivery drivers.
But most trends are working against them. In a typical year, online's share of grocery sales falls slightly through December.
In the four weeks to the end of December 2019, share dipped to 7.4%, down from 8.1% in the previous four weeks, according to Kantar. While partly caused by growth of overall sales through the period, changing shopper behaviour plays a significant role.
"We see that every year. People generally prefer to buy their Christmas dinner and party food in store. It's the occasion of doing that big Christmas shop," says Kantar consumer insight director Charlotte Scott.
But this year that occasion is less appealing. A crowded store doesn't say ho, ho, ho, but health risk.
Headlines this month connecting a positive coronavirus test with a recent visit to a supermarket – however unfair an analysis – will work to turn more people off stores. The prospect of queueing in cold weather is also unlikely to help matters.
"A crowded store doesn't say ho, ho, ho, but health risk"
"The expectation is definitely to see a further uplift [in online]," Scott adds.
That uplift is coming from an already high base. Online's share of sales has close to doubled since last year, now tracking at 13%, according to Kantar.
Buying habits are piling further pressure on top of that. As Covid restrictions make large gatherings more difficult, consumers may well be doing smaller 'big shops'. Which doesn't help online operations, where bigger baskets to fewer customers are more efficient.
"With Covid restrictions, most of us will be staying at home and celebrating with our immediate families. This will lead to more households shopping for smaller baskets and this will definitely put a strain on slots," explains Julian Skelly, retail analyst at digital consultancy Publicis Sapient.
The trouble is, there's not much the mults can do to ease this strain on availability. Ramping up existing operations is not an easy task. Efficiencies have already been squeezed from the system this year, as the first lockdown prompted online orders to skyrocket.
"The gains available to supermarkets from changing their physical delivery systems is limited at this point. At this stage, they can only tweak processes to get more efficiency," Skelly says.
Supermarkets can always employ additional drivers and put more vans on the road – and many are doing so. "The grocers will be leveraging all the levers at their disposal to try to meet customer demand," says Jonathon Ringer, partner at Bain & Company. Still, that won't address the bottlenecks that often arise at the CFCs, which have already extended operating hours and are now running at capacity.
"It is not easy to add a temporary capacity burst to home delivery. Warehouses can scale up to a point but once saturated, there is no capacity left," Skelly says.
There is, of course, a store picking model. That offers more capacity gains and has "demonstrated its flexibility" Ringer adds. But again, it requires additional labour – and has its limits.
"81% of Brits believe supermarket workers are a coin toss or worse in their chance of catching Covid"
Supermarkets also need to ensure pickers don't ruin the experience for in-store shoppers. In January, a third of shoppers reported disruption from pickers in a survey by warehouse robotics company Fabric – and that's only likely to become more disruptive in the era of social distancing. A recent YouGov survey found 81% of Brits believe supermarket workers "are a coin toss or worse in their chance of catching Covid".
Ultimately, capacity can only be stretched so far. That means the focus for the mults is working to both smooth and divert demand. In 2019, grocery deliveries spiked on 23 December, Kantar data reveals, the same day in-store sales hit their highest levels of the month. To avoid a Christmas crunch point and spread the load, supermarkets are urging shoppers to do their shopping earlier.
"We encourage customers to book early to secure their preferred date," says Asda, which this year brought forward the release of Christmas slots. "If customers are looking for an online slot, we would encourage them to consider shopping a little earlier in the Christmas period," echoes Tesco.
Even the mighty Amazon is using precautionary language. "We'll all be stretched and it's advantageous to the customer and probably to the companies for people to order early this year," CFO Brian Olsavsky told investors on a call this month. Amazon's Fresh service allows users to book slots only three days in advance, but they'll be available up until midnight on Christmas Eve.
Nevertheless, "during this period of unusually high demand, availability of products and delivery slots will be limited" the e-commerce giant warned.
Many of the supermarkets also backed a national advertising campaign from the British Retail Consortium, in which Santa urged consumers to 'Shop early, start wrapping, enjoy Christmas'.
The aim is to "prevent the last-minute rush so their fellow customers and all the store colleagues, warehouse workers and delivery drivers working behind the scenes, have the space they need to stay safe and well," BRC CEO Helen Dickinson explained when the campaign launched in October.
How third-party couriers are coming into their own this Christmas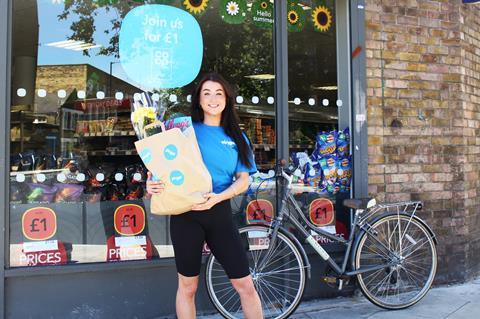 While supermarket delivery slots may be hard to secure, they're not the only way to get groceries online in the week before Christmas. Partnerships forged with third-party courier services such as Deliveroo are set to come into their own this festive season.
"With more people choosing to stay at home rather than shop in-store for their groceries, many supermarkets have limited capacity for online orders through their own websites, and so working with Deliveroo can help to distribute orders through additional channels," a spokeswoman for the company says.
Most of the mults now have such arrangements in place. Sainsbury's is working with Deliveroo and Uber Eats, delivering from about 20 stores; Morrisons and Waitrose have partnered with Deliveroo delivering from 130 and 30 stores respectively; Asda is working with Uber Eats from a handful of superstores; and discounter Aldi and convenience players McColl's and Co-op are also on the Deliveroo platform.
"With the festive season getting underway, supermarket delivery slots are extremely popular," says Uber Eats general manager Toussaint Wattinne.
As well as listing almost everything needed for Christmas dinner, the courier companies are a perfect match for the forgotten cranberry sauce shopping mission.
"For those people needing urgent supplies at the last minute, our service allows customers to receive orders from supermarkets as late as Christmas Eve," the Deliveroo spokeswoman adds.
Nevertheless, orders made on the leading platforms still need to be fulfilled by store staff, which could be a burden as Christmas nears. Smaller players like Pinga (pictured), which offers a selection of about 500 Co-op products delivered from five London stores, and Buymie, which lists Co-op, Asda and Tesco goods for users in Bristol, have couriers doing the picking themselves in participating stores.
This provides "considerably more scale" for partners, says Pinga co-founder Michael Goulden. Furthermore, "we'll be shopping until the shops close on Christmas Eve", he adds.
Shopping early
Whether consumers are heeding the advice is hard to gauge. Asda says it has observed "a marked shift in buying patterns" with customers stocking up on festive essentials "earlier than ever before".
Indeed, overall retail sales volumes increased by 1.2% during October compared with September, "suggesting consumers had started Christmas shopping earlier this year," said the ONS.
But food is different. "Whilst there's that need to book a slot early to get everything for your Christmas dinner, there's not necessarily lots of stocking up in advance," Scott explains.
And until this week, it was still unclear just how many people would be able to mix. That has thrown out planning in advance. "People don't know if they're buying a turkey for six, 12 or two. That makes it really difficult to plan and know what to buy," she explains.
Fresh food can only be bought so far in advance of the day, anyway. But longer-lasting Christmas categories haven't shown signs of early uplift either, Kantar data indicates. "The vast majority of Christmas food shopping still occurs in the final few days leading up to Christmas," Ringer adds.
The risk is consumers will wait and wait until their plans are finalised, by which point it will likely be too late to secure or even edit a delivery.
Fortunately, supermarkets have other online channels they can leverage. They're expecting to make significant gains in click & collect, which has been rapidly rolled out across store estates this year.
Click & collect slots too are finite, of course – last Friday, customers reported none were available in Christmas week at their local Tesco stores. But overall the option is less labour-intensive than home delivery.
The supermarkets' partnerships with third-party courier partners can also be more easily scaled up – and promise an alternative for desperate customers, albeit at a cost.
So while the supermarkets have "done an amazing job" there will "undoubtedly be a capacity challenge this Christmas," says Scott.
That means the task now is as much about managing expectations as it is about ramping up operations.
How are supermarkets managing demand?
The big four supermarkets are under enormous pressure to meet demand for home delivery this Christmas. But having ramped up operations by so much through the year, how much further can they go? And what are they doing to better manage demand? We sum up what each of the major mults is doing to prepare for what looks to be the busiest online festive season on record.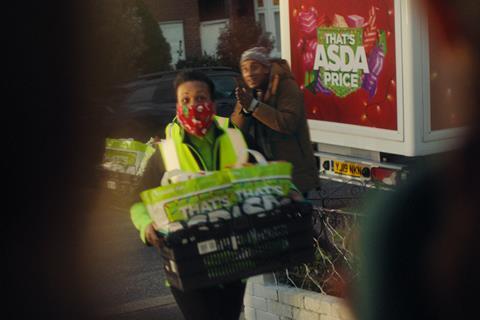 Asda
Christmas delivery slots can already be booked at Asda – their release was brought forward this year – with availability dependent on day, time and store. Asda has "invested in more vans for our fleet to meet higher demand", says a spokeswoman, with slots ramped up from 450,000 to over 765,000 a week. "We continue to open up more capacity wherever available," she stresses. But "demand for Christmas delivery slots is always high", and many stores are already sold out of delivery and collection slots.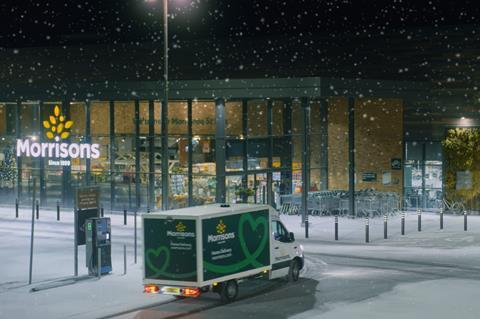 Morrisons
Delivery pass holders were offered slots from early November, while non-pass holders had to wait until much later in the month. A spokeswoman for the supermarket said it had "more slots year on year" given the service is offered from 150 more stores. Morrisons is also offering a doorstep delivery service for vulnerable people, where orders can be made over the phone for delivery the next day. It's also launched a range of Christmas food boxes – one of which includes a dinner for four – with fixed delivery arrival dates on 22 and 23 December.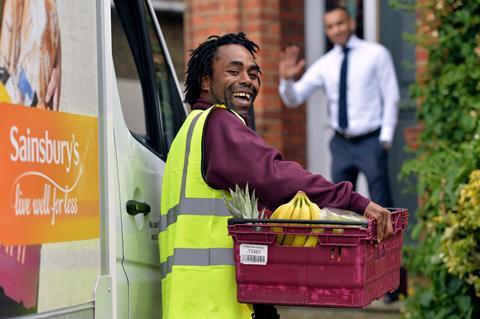 Sainsbury's
The supermarket says it expects to fulfil more than 750,000 orders across home delivery and click & collect this Christmas. There are nearly 1,000 more home delivery vans on the road compared with last year, and they're working longer. Slots for delivery pass holders are being released on a phased basis – available on 22 November for delivery on 20 December, 23 November for 21 December and so on. Vulnerable customers will be given access to slots on 26 November and "all other customers will receive access to the remaining slots" on 29 November.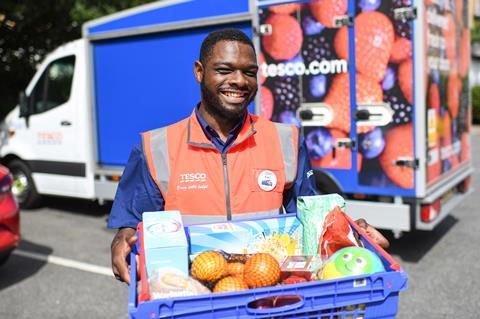 Tesco
Christmas week slots exclusively for delivery pass holders were released on Friday 13 November, which proved unlucky for many. A further release for non-pass holders on 20 November also left many disappointed. But in terms of total orders, Tesco will be serving the most this winter, having doubled capacity to over 1.5 million slots a week. "We are constantly reviewing opportunities to further increase our capacity for customers and may be able to offer a limited number of additional Christmas slots over the coming weeks," a spokeswoman says.