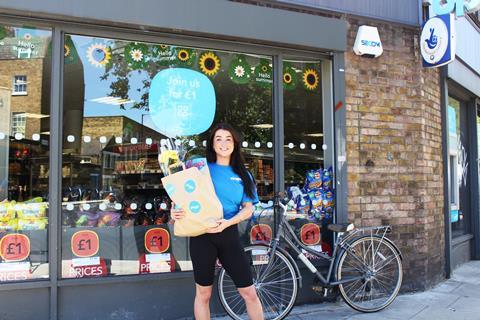 The Co-op has partnered with a zero-emission courier startup in the latest of its growing number of delivery trials.
The retailer is offering a range of 500 products on a smartphone app called Pinga from five of its London stores, in Hackney, Stepney and Stoke Newington.
The shopping is picked by Pinga and delivered in 90 minutes, either by electric scooter, bicycle or on foot, and will be available to up to a million people living close to the stores.
The Co-op and Pinga said the plan was to eventually offer the service across east London.
The Co-op has grown its e-commerce operation from nothing to a burgeoning rapid delivery service over the past three years, using numerous partners across hundreds of stores.
Its partnership with Deliveroo began in 2018 and has since expanded to over 400 stores. Meanwhile its own same-day delivery offer, available through a Co-op online shop launched last year, is expected to run from more than 650 stores by the end of 2020. It also works with tech startup Starship to deliver by robot in Milton Keynes.
"We continue to innovate and expand access to our products, getting closer to our members and customers with ease, speed, quality and choice locally to meet the needs of communities," said Co-op head of online development Jason Perry.
"Shoppers are increasingly looking for on-demand online convenience – shopping in close proximity to their home or place of work. With deliveries made in 90 minutes or less we can provide what shoppers want, when and where they need it, conveniently."
Pinga said it planned to work with more high street stores, estimating more than half of orders currently made online could be supplied by local retailers.
"We describe Pinga as the 'high street in your hand' and o ur aim is to digitise and work in collaboration with local stores," said Pinga co-founder Michael Goulden.
"Creating an ethical gig economy is key to us, and the combination of emission-free deliveries and treating our people, partners and the planet fairly are at the heart of our approach. We believe this will mean that those involved right across our supply chain are more likely to stay with us, building great relationships with customers. Those shared values are why we're so pleased to have partnered with the Co-op."
The app is available from Google Play and App Store.