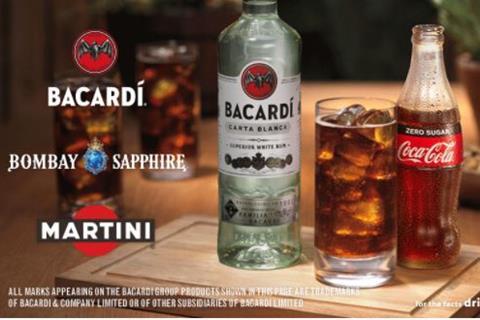 Coca-Cola is bolstering its DTC operation Your Coca-Cola with the addition of spirits to make up 'mixers bundles'.
Bottles of Bacardí rum, Bombay Sapphire gin, Martini and a selection of Jack Daniel's lines are now available together with multipacks of Coca-Cola varieties and Schweppes sodas and tonics, in bundles costing between £35 and £40.
As well as the spirits bundles, Your Coca-Cola is also offering a Big Match Bundle, featuring multipacks of Coca-Cola and Coca-Cola Zero Sugar cans, which come with a Premier League branded football and holdall.
The DTC website Your Coca-Cola, a joint venture between Coca-Cola European Partners and The Coca-Cola Company, launched in November.
"The platform aims to drive long-term brand loyalty and generate insight that will help Coca-Cola optimise its range across all retail channels, by giving consumers direct access to existing products and merchandise," Marco Levy Geraldes, strategic project director at CCEP, told The Grocer.
"It also gives us the chance to drive trial and deepen penetration across our existing range, alongside testing and refining new products and innovations before bringing them to market," he added.
In recent weeks the site has significantly ramped up its range. Last month it began listing Pringles products, which can be bought as part of bundles.
"We've recognised the demand to serve a variety of occasions, whether that's celebrating, snacking or working from home," said Hugh Landsman, associate director for new platform and channel development at CCEP. "Continuing to expand the available range on the site, both of our own brands and of adjacent categories from our partners, forms part of our test-and-learn approach to see what consumers want and need."
The DTC site "fills a gap in the market" by "facilitating mid-sized online purchases with larger multipacks not typically available in retail and occasion-based bundle boxes" CCEP said.
The company said the site was still in a "pilot phase".