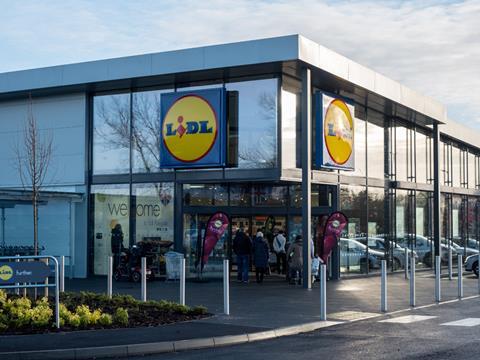 Lidl has launched a rapid grocery delivery service in Ireland, with orders arriving in as little as an hour.
Orders are placed on a smartphone app in a trial which started yesterday (24 September) in Dublin.

The core range from a number of Lidl stores is available, including frozen, chilled and ambient food as well as alcohol. General merchandise is excluded.

Customers choose from hour-long same-day delivery slots, starting with one hour from order. The delivery charge is €6.99 for one hour from order, €4.99 for two hours or €3.99 for three hours or later. There's also a mark-up on shelf prices, starting at around 15% and reducing as basket value rises. The service is available in five Dublin postcode areas.

It's being run by Buymie, a Dublin based third-party grocery delivery specialist with ambitions to expand into the UK.

Buymie uses contracted pickers and couriers to fulfil orders placed on its app, available for Android or iOS. The startup has previously done so without collaboration from retailers but the Lidl service is in partnership with the supermarket.

"As a forward-thinking organisation we are constantly looking for innovative ways to improve customer experience and respond to new trends," said a Lidl spokeswoman.

"One of these initiatives is the trial we are running for on-demand grocery shopping via a mobile app. Lidl Ireland have partnered with an Irish startup company called Buymie to trial this service in the south Dublin area.

"Customers can order goods from a selection of local stores and have them delivered by a Buymie personal shopper in as little as an hour.

"We understand that some of our customers are under time pressure with work and family commitments and hope that this new trial offering and will enable them to enjoy our top quality products delivered right to their door."
Lidl sparked speculation it could be on the verge of launching a UK delivery service by registering a holding company called Lidl Digital Logistics with Companies House in April this year.
A Lidl UK spokeswoman said today that the Dublin rapid delivery trial was an Ireland initiative only, adding: "But we of course continue to monitor any business activity that may be of potential interest to our customers."

As well as Lidl, Buymie delivers from branches of Tesco in Dublin.

The startup has raised more than €1m in funding since its 2016 launch, including €850,000 in a seed round earlier this year. Eamonn Quinn, former marketing director of supermarket chain Superquinn and star of Dragons' Den in Ireland, is the company's chairman.

Buymie CEO and co-founder Devan Hughes said: "Buymie has now partnered with Lidl Ireland as its first retail partner, to launch a trial on-demand grocery delivery service for Lidl Ireland customers in Dublin. Both companies will work to test and develop this new channel by which customers can access a full range of their favourite Lidl food products, and have them hand picked and delivered to their door by their very own personal shopper."

Buymie previously delivered groceries for Aldi but legal wranglings led to the retailer being listed only as 'German discounter' on the app.

Within weeks of Buymie's launch, Aldi issued a cease and desist notice over the display of its logo and products in the app. Buymie then ran a billboard campaign outside Aldi stores.

Then in May last year the Advertising Standards Authority for Ireland upheld a complaint from Aldi that consumers could be misled by Buymie price mark-ups and listings of products no longer available. Buymie changed the app as a result.