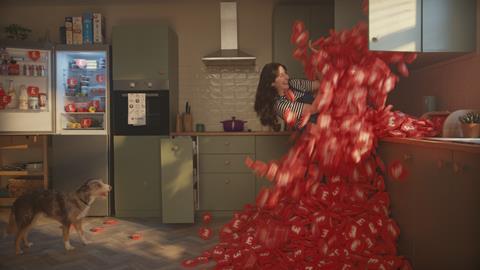 Ocado has launched a nationwide TV advertising campaign to promote its recently updated Price Promise.
The advert will run on TV as well as video-on-demand services, YouTube and social media until July. It features a woman and pet dog in a kitchen, in which her fridge and cupboards burst open with groceries and red pound sign roundels.
Ocado launched a Low Price Promise in 2012, pledging to beat Tesco on the cost of all comparable shopping baskets, with a money-off voucher covering any difference. However, the scheme was dropped in 2021.
The Price Promise was revived in March, covering 10,000 products and including Clubcard deals.
"At Ocado, everything we do starts with our customers, and we know how important value is to them at a time when household budgets are stretched," said Sarah Emerson, head of brand advertising at Ocado. "We continue to support customers by investing in price and hope our extensive Ocado Price Promise leads the way in helping them find great value."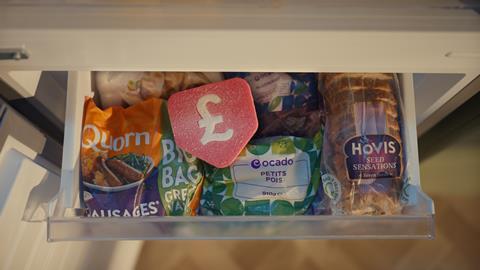 Several brands feature in the ad, including Quorn, Hovis, Cirio, Weetabix, Maille, Dorset Cereals and Coca-Cola. Ocado own-label products also appear – but notably none from Ocado's partner in the Ocado Retail joint venture, M&S.
Last week, M&S revealed a reset plan in its trading update, which highlighted the need to "deepen collaboration between Ocado Retail and M&S".
"The intention is to collectively, as a team, upweight the marketing communication, but we need to get some of the basics right first," said M&S boss Stuart Machin.
In March, Ocado Retail posted modest first-quarter growth despite smaller basket sizes as order numbers and prices increased. In the face of a cost of living crisis, the retailer said it was "investing in great value for customers including our new Ocado Price Promise and providing unbeatable choice and service".
It is not the first value-focused campaign by Ocado Retail, which has long struggled with public perceptions around value. In January last year, it launched an advert highlighting its 'Everyday Savers' range, a curated collection of "most-loved everyday staples, offered at low prices". Ocado Retail said the campaign "shows how Ocado can deliver customers a table full of everything they need, and for less than they'd expect".
The latest campaign was created by Ocado's long-running creative agency St Luke's, which said the adverts' physical roundels "subvert the superimposed 'value' icons that typically ping on to screens out of nowhere in supermarket TV ads".
"The red roundel is the symbol of a keenly priced supermarket item," said Al Young, joint chief creative officer at St Luke's. "And just as Ocado has more choice than its competitors, its range of price-matched goods dwarfs every other supermarket. We wanted to bring that sense of deals-at-scale to life."