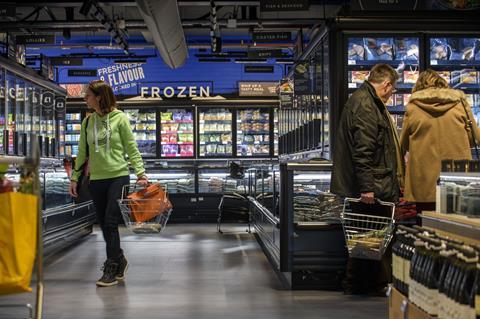 Early in 2020, Marks & Spencer CEO Stuart Machin – then MD of the food business – told The Grocer he had a "countdown clock" on his desk, ticking down the weeks until M&S replaced Waitrose on Ocado.com that September.
He was keen to showcase the full range of M&S products to more shoppers. It meant customers whose nearest M&S was too small to accommodate the full range could still discover it.
Even "people who aren't used to M&S will say 'I never knew they did all this range', because it's online", he said at the time.
He also felt there was much work to do before the changeover went live, including on range proliferation. M&S's aim in 2020 was to eventually replace Waitrose's 4,000 products on Ocado.com with 6,000 of its own. With the full M&S range standing at 6,500, Machin felt its size sufficient, though there were some "gaps" and "duplication" that needed to be addressed.
Three years later, after a strong start, the joint venture seems to be struggling, with M&S having to suck up £29.5m for its share in Ocado Retail's losses (after banking £13.5m the previous year).
Of course, the JV is a victim of a major reset in shopping behaviours away from online. And Ocado was slow to shift its focus from Covid to stuff it used to do so well like cost efficiency, better choice and fewer substitutions.
There has also been an increase costs associated with "under-utilised capacity", according to the trading update, covering the year to 1 April.
An 'Ocado reset' is underway, aiming to cut costs through network optimisation, including the proposed closure of Ocado's Hatfield site – its first ever customer fulfilment centre, opened in 2002 – and shifting volume to more efficient CFCs including Luton, with on-grid robotic pick.
Other goals are more about retail basics, including "resetting the customer experience" and "re-engaging lapsed and occasional customers".
Machin told The Grocer: "We have to improve availability. I had a customer email yesterday talking about availability, quality and life of each product.
"We need to do a better job. That's not just on M&S, it's on the Ocado range itself. And in fact, at the last Ocado board we spent some time analysing freshness, quality and life of products."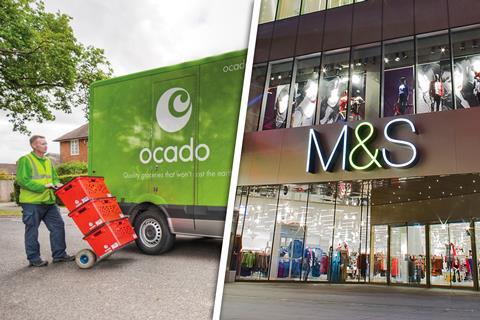 He said Ocado Retail CEO Hannah Gibson and M&S Food MD Alex Freudmann had "led a combined team effort in not just setting out an ambition to grow M&S sales through Ocado but more hardwiring in how we work together".
The aim of working together better is also in the reset plans set out in the trading update, which says there is a need to "deepen collaboration between Ocado Retail and M&S", putting M&S's range on Ocado.com at just 5,700 lines.
It's surprising this should still be a sticking point more than two years after M&S launched on Ocado.com. But nothing sums the lack of collaboration up more than the marketing. Ocado's ads don't ever mention M&S. (Percy Pig's appearance on the vans was only temporary). Nor do those from M&S, come to think of it.
There was a time when Ocado and Waitrose were so closely linked in consumers' minds that many simply thought of the former as the online service of the latter. How strong is the link between M&S and Ocado by comparison?
Shedding more light on the challenges, Machin said: "I got an email two or three weeks from M&S Food, which I obviously clicked on, and the marketing team had put together this fantastic recipe and said 'Shop in store or on Ocado'.
"Of course, I clicked on the link immediately and checked all the products were in stock on Ocado. Most were but a few weren't.
"So the intention is to collectively as a team upweight the marketing communication, but we need to get some of the basics right first."
The loss through the partnership is blot on an otherwise robust set of results. Food sales were up 8.7% to £7.22bn, with M&S citing Kantar market share data to claim faster growth than all major full-line supermarkets.
But M&S is still searching for that "substantial growth and profit potential" it believes lies in the partnership.
Perhaps it is time for the joint venture to reset that clock, too. Being the relentless target-setter he is, Machin probably has.
He added: "Over the next 12-plus months there are lot of opportunities to collaborate, and I'll leave Hannah and Alex to work out those and how that helps M&S and Ocado."