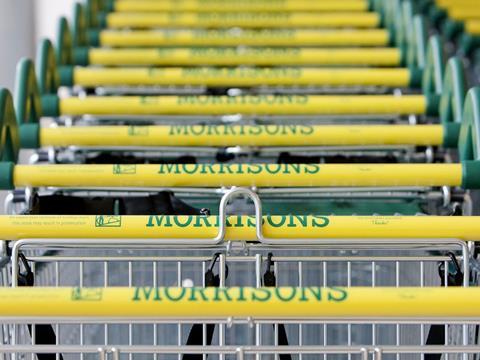 Morrisons has reached a new agreement with Ocado that will see the online specialist develop a nationwide store picking solution for the supermarket group.

The parties have also renegotiated some of the terms of their original 2013 agreement such as the cancellation of the profits share, a reduction in the research and development fee paid by Morrisons and the introduction of a five-year break clause.

In return, Morrisons has agreed to take 30% of the capacity in Ocado's new customer fulfilment centre in Erith, which is due to commence operations in Ocado's 2018 financial year and will be able to process 200,000 orders a week. Morrisons will meet 30% of the initial building costs of the Erith site and pay Ocado annual fees for the upkeep of the mechanical handling equipment in the warehouse.

As part of the deal, Morrisons is set to start selling thousands of non-food lines currently available via Ocado through its own website.

Morrisons said today that once the store pick model becomes operational, Morrisons' obligation to share 25% of its online profits with Ocado will end. At the same time, the exclusivity restrictions on Ocado will also be reduced, though it will still be prohibited from serving a number of Morrisons' key UK rivals. The restricted retailers are Tesco, Asda and Sainsbury's, as well as Aldi and Lidl.

"The new investments in online growth are further examples of Morrisons building a broader business and will allow millions more customers all over Britain to enjoy Morrisons' good quality fresh food and great value for money," said Morrisons chief executive David Potts.

"As food maker and shopkeeper, we continue to follow the customer and move towards achieving capital light profitable growth online."

As a result of the new deal, Morrisons said its break-even point for Morrisons.com would be later than originally planned when the business operated solely from Ocado's CFC in Dordon, Warwickshire.

It said it expected the annual Morrisons.com EBIT loss to continue to reduce each year and to be a key component of the £50m-£100m incremental profit opportunity that it announced at its preliminary results in March.

Ocado said it was already developing a store pick module as part of the Ocado Smart Platform - the system it is hoping to sell to other retailers both in the UK and internationally. As such, it said it did not expect to incur significant additional expenditure in respect of the new agreement as it was also already developing the Erith DC.

"I am delighted to announce this extension to our agreement with Morrisons, which will provide them with additional capacity for the growth of their online business, supported by our proprietary technology and infrastructure solutions," said Ocado CEO Tim Steiner.

"We see this agreement as a further endorsement of the strength and attractiveness of our capabilities that we can provide to our existing UK partner and for retail partners globally."

Morrisons originally agreed a £216m deal for Ocado to run its online grocery operations in May 2013 when Dalton Philips was in charge of the supermarket group. However, since David Potts took over in 2015 speculation has grown that he was unhappy with the terms of the deal and was seeking changes. He heaped further pressure on Ocado in February by announcing that Morrisons had struck a deal to supply Amazon with thousands of own label growth products to support its push into the grocery business. That deal was revealed at the same time as the announcement it was in talks with Ocado over the terms of the deal that has been reached today.