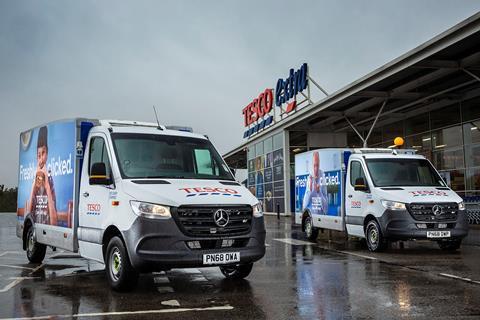 Tesco is bringing in a major shake-up of its online delivery fees.
The supermarket giant, which has experienced a massive boom in orders due to the coronavirus crisis, said it was moving to a "simpler" and "fairer" pricing structure which reflected the cost of its picking, packing and delivery options.
The move will see any delivery slots booked from 3 August carry a £4.50 charge, or £5.50 for orders delivered from one of Tesco's customer fulfilment centres rather than a store, replacing its peak and off-peak charges.
Tesco said the move came on the back of a massive increase in demand for online services, with many having questioned how supermarkets will seek to make online delivery more profitable in the wake of the huge change in shopping patterns.
CEO Dave Lewis, in his last quarterly presentation, revealed Tesco had seen online sales almost double year on year since lockdown began, with the company adding more than 600,000 delivery slots in the quarter.
The move also impacts on click & collect slots, which will be priced at £1.50. The new charges will not apply to people who sign up to Tesco's Delivery Saver plan, which was revived last month after being shelved because of the huge strain placed on supermarket delivery services due to the outbreak. Under that scheme shoppers pay £7 a month or a one-off payment of nearly £50 to get free delivery slots, apart from on same-day deliveries.
"Demand for slots remains extremely high at all times of the week, so we are moving to a simpler pricing structure with a flat rate that better reflects the cost of picking, packing and delivering orders," said a Tesco spokeswoman.
"This structure is fairer for everyone and means no customers will have to pay the highest slot price – which is currently £7 – as a result of demand. Customers who have signed up for our Delivery Saver subscription service will continue to benefit from free deliveries and collections as part of their plan."
However, the move was criticised by many customers on social media.
One tweeted: "Do you not think that these £4.50 delivery charges are going to hit the most vulnerable, how are pensioners or people on benefits going to afford an extra £4.50 on top of their shopping."
Another wrote; "What are you charging so much for your delivery slots compared to other supermarkets. Not a great way to treat your customers."
"Why did you have to put the delivery charges sup to £4.50. Almost six years I've been getting weekly deliveries. Time to look into your competitors' delivery charges or even use the big Aldi and Lidl over the road from me. Ridiculous charge."