With online sales becoming the norm, is it time UK supermarkets took on the e-commerce behemoths on their own turf?
When shoppers are looking to purchase something online, the first instinct for most is to look on an online marketplace.
Marketplaces have become the dominant model of e-commerce over the past decade, with the likes of Amazon, eBay, Asos and Etsy now household names.
With the pandemic seeing online sales across all categories surge, it is marketplaces that are benefiting the most. Research from Adobe into the online shopping habits of Brits found online marketplaces were four times more popular than retailers' own websites and apps. Of the 69% of Brits that reported regularly shopping online, some 57% made a purchase from an online marketplace, versus just 13% who bought directly from a retailer website.
They've been able to "get ahead of other retailers and brands, thanks to their ability to scale quickly and establish a reputation for reliability that saw them become the first port of call for a wide range of goods," explains Adobe EMEA marketing chief Peter Bell.
It's a trend that hasn't gone unnoticed by major grocers. Just as Amazon makes its moves into fresh food, the world's leading supermarkets are now launching or reviving their own marketplace strategies; among them Walmart, Kroger, Auchan, Carrefour, Ahold Delhaize – and soon, Iceland partner The Range.
"Marketplaces have become the dominant model of e-commerce over the past decade"
With leading marketplace software provider Mirakl this month announcing it will invest more than £23m in the UK market over the next two years, a major UK grocer marketplace launch is close. Possibly only weeks away. "There's no question about it," Mirakl EMEA general manager Brendan Walsh tells The Grocer.
But what are the risks and rewards associated with the business model? What is the prospect that a UK multiple will prosper (where Tesco Direct failed) with a marketplace? Could a supermarket really challenge the likes of Amazon in this space?
In a standard e-commerce operation, the retailer is responsible for buying the goods listed, setting prices, storing them and delivering them to customers. Marketplaces work differently. They list goods from third-party vendors, who are responsible for delivering them directly to customers when ordered. The marketplace owner typically takes a cut of the vendor's takings.
Depending on the retailer, marketplaces can operate as separate websites, or can be fully integrated into existing sites, with third-party products listed alongside supermarket ones.
The potential benefits of the marketplace model for a supermarket are multitudinous.
"The biggest opportunity is to offer choice and competition to customers, as well as being able to list a broad range of products that won't be restricted by buying teams," says Jasmine Poke, European fmcg specialist at Amazon growth agency Molzi.
Since products don't have to be bought, stocked and fulfilled by the retailer, marketplaces allow for a bigger assortment across more categories – a so-called endless or limitless aisle.
Kroger in August announced it was launching a marketplace featuring third-party sellers, allowing it to offer more than 50,000 additional items across multiple categories, including natural and organic, international food, speciality items, housewares and toys.
"The biggest opportunity is to offer choice and competition to customers"
Walmart, which has had a marketplace for some years, is now ramping up its offering, partnering with Shopify to allow its sellers to "seamlessly" list their items on Walmart.com too. It plans to add 1,200 sellers this year.
"We're excited to be able to offer customers an expanded assortment while also giving small businesses access to the surging traffic on Walmart.com," says Walmart Marketplace VP Jeff Clementz.
"Growing our marketplace is a strategic priority, and we are going to be smart as we grow," he adds.
Auchan has boosted its online offering by 100,000 products since launching its marketplace in 2015. Rival Carrefour, having launched similar marketplaces in Brazil and Spain, announced a French marketplace this summer.
"With this food and beverage marketplace, our goal is to become the leading e-commerce site for our customers," says Elodie Perthuisot, executive director of e-commerce at Carrefour France.
By the end of the year Carrefour.fr will feature more than 100 third-party retailers and up to 100,000 additional products.
"It's an opportunity to scale fast. Without the limit of space and with third party sellers doing the hard work, UK grocers could scale their offering quickly, taking advantage of the e-commerce hockey stick caused by Covid," says Paul Adams, founder and CEO of marketplace services platform Tambo.
While some grocer marketplaces retain the food focus, the model easily allows supermarkets to expand into non-core categories. That's long been happening in stores, with the addition of clothing and homeware ranges to the aisles. Sainsbury's opted to go further with its acquisition of Argos owner Home Retail Group in 2016, and Asda is this year accelerating its in-store 'test and learn' partnerships strategy, establishing concessions from B&Q and The Entertainer. Such moves can be more rapidly tested – at lower risk – on a marketplace.
"With UK grocers struggling for growth within existing operations, a marketplace could bring incremental revenue at a relatively low investment," Adams adds.
It's a big opportunity. While online's share of grocery sales has rocketed, shoppers' shift to online has been even more pronounced for non-grocery categories. Purchases of consumer electronics made online have increased from 55% in 2019 to 73% this year; home and garden from 48% to 67%; and fashion from 41% to 86% according to a Google study conducted by Kantar.
Supermarkets have choices to make as to how closely they should curate the selection from third-party sellers.
"The big four will need to have a curation role of some kind, otherwise they're no different from Amazon. But they'll be less picky than they are about what they let into stores, otherwise what would be the point? They'll still have a hand in what's in there, because they have a quality reputation to manage," Adams explains.
Decisions also need to be made about whether third- party sellers can list identical products, cheaper than the store may offer – one of the issues impacting the demise of Tesco Direct (see box).
Marketplaces can also mean grocers can gain a wider geographical coverage and delivery capacity since third-party shippers are delivering the goods. This comes into its own with local lockdowns and the possibility CFCs could be close due to a Covid outbreak.
"Having additional sellers on your fulfilment track gives you a lot more options in terms of where you're shipping goods from," explains Mirakl's Walsh.
There are further advantages. Marketplace shoppers can be cross-sold other services, enticed into memberships or encouraged to visit physical stores.
"Delivered effectively, a marketplace can improve the performance of other divisions," Adams says.
In Auchan's case, marketplace orders can be collected and returned to stores if a customer chooses to. Stores also have kiosks where the marketplace can be shopped. According to Auchan, since activating click & collect for marketplace products, it's seen a 10% increase in the growth of physical store footfall.
Marketplaces also show which products are proving popular and could be offered in physical stores.
"They can provide insight into evolving trends, new categories and purchasing considerations to improve their retail offering," Poke adds.
Furthermore, establishing a marketplace provides "some protection" from Amazon, which is quickly strengthening its grocery proposition, says Adams. "UK supermarket customers are under constant pressure from Amazon to switch, especially those hooked on Prime," he says.
The threat is real. Amazon is benefiting from the pandemic because, with online sales growing across categories, it is the place people go to shop.
"Even with more time on their hands, consumers are drawn to the broad product ranges, robust delivery infrastructure and limited steps between logging on and checking out that characterise marketplaces," Adobe's Bell says.
How to build a marketplace
Of course, establishing a marketplace is no small undertaking. And there are many potential pitfalls.
Ahold, parent company of the Netherlands' largest supermarket chain Albert Heijn, got around the hurdles through acquisition – buying the country's most visited retail website Bol.com in 2012. But an equivalent doesn't exist in the UK.
UK supermarkets will have to build their own. The cost of doing so is not insignificant, and return on investment could take years.
"If the supermarkets don't have a long-term investment plan they will struggle. It's expensive and takes time, especially if you're playing catch up," says Adams.
"They are probably fearful of the commitment. Walmart has invested billions in e-commerce to compete with Amazon. Meanwhile, Amazon has deep pockets and patient shareholders. It's successful because of its commitment to invest dollars earned in sales back into generating traffic and improving customer experience," he adds.
Molzi's Poke agrees. "Long-term vision, investment and planning are essential, as well as the ability to adapt and evolve – Amazon didn't turn a profit for the first 20 years," she says.
"Long term vision is essential – Amazon didn't turn a profit for 20 years"
The patience is paying off for Amazon, of course. Last month it announced record profits of $6.3bn as net sales increased by 37% to $96.1bn in the third quarter.
Fortunately the technical task has been made easier with the emergence of software providers like Mirakl, which offers a 'plug and play' solution.
Nevertheless, "as with any business model transformation it's important grocers have clarity of thought, and they have buy-in from the wide executive team", says Walsh.
As Fabian Rebeiro, founder and CEO of rival marketplace software provider Omnyfy, puts it: "There are no disadvantages as such – just poor executions or potentially lack of resourcing."
There are potential pitfalls around customer service, when it is a partner delivering ordered goods.
By using their own delivery drivers, supermarkets can alert customers as to when their order will arrive, take returns and plastic bags and overall ensure a positive doorstep experience. When orders are fulfilled by third-party sellers, this is out of their hands.
And who should customers complain to when something goes wrong? In Carrefour's case, they are invited to contact the seller directly, but the communication is handled by the grocer. Although "Carrefour customer service is of course at your disposal", the retailer says.
The risk is "customer confusion since they have two experiences – one directly with the retailer and one through its marketplace", Adams warns. Ultimately, "customers may be unsatisfied or uncertain about how it all works together," he adds.
Once built, consumers must be convinced not to visit Amazon.com first – a marketing challenge that needs to overcome muscle memory. A consumer survey by Molzi this year found 59% of shoppers head straight for Amazon.com when beginning a product search.
"Having a compelling offering that builds trust with the consumer is essential – there is already a lot of choice with established marketplaces," says Poke. "Supermarkets moving into marketplaces will need to have a compelling proposition and USP for customers to choose them over Amazon."
There's also talent and culture to consider. "Running a marketplace is very different from running a supermarket, even online. There's a risk of sticking with the old in developing the new," says Adams.
However, grocers have an ace up their sleeve when taking on the marketplace giants, particularly Amazon.
"Frankly, there are a lot of people who just don't like Amazon," says Adams. "The supermarkets have closer connections with UK consumers than Amazon. It's a competitive advantage. They are local to customers, not some global giant," he says.
They have "strong brand affinity", Poke adds. Plus shoppers are visiting supermarket websites more than ever, with online's share of grocery sales having levelled out at 12.5% for the past two months, according to Kantar, up from 7.4% pre-pandemic.
Despite all the hurdles, supermarkets in the UK launching marketplaces seems certain. And soon.
"It's a nut we've yet to crack in the UK. But we believe it's very imminent. The market is absolutely ripe for a major grocer to pick up the mantle and take this marketplace model to the next level," says Walsh.
Adams agrees: "It's likely they'll soon take the plunge. In fact, I'm not sure they have much choice."
Learning from Tesco Direct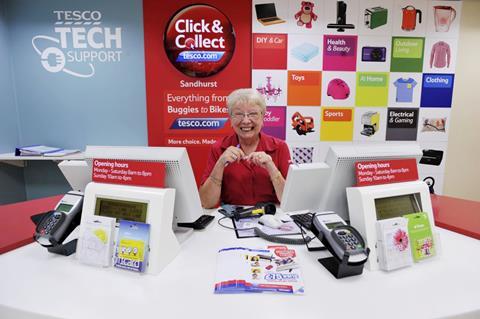 The marketplace model is not a new one to Tesco, which in 2012 opened up its non-grocery Tesco Direct to third-party sellers.
Tesco Direct ceased trading in July 2018, with the company saying there was no prospect of the loss-making concern becoming profitable. Along with hundreds of job losses, its closure saw around 300 merchants lose a small but strong sales channel.
Why did it fail? And is it a sign the marketplace model won't work in UK grocery?
"In a nutshell, they tried to take on Amazon in a category they are not known for – non-food items – with an inferior customer experience and without a sustainable logistics infrastructure," says Tambo's Paul Adams.
"Consequently, they couldn't convince enough customers to switch, failed to retain enough customers and lost money delivering the product."
Launching Direct from scratch was probably too big a project, even for Tesco. "The costs involved can be huge and Tesco felt the brunt of this," says Molzi's Jasmine Poke.
Tesco was arguably too controlling of its third-party sellers, with overly stringent vetting, and too cautious about listing products that might compete with their own.
The supermarket was "too protectionist and in hindsight doomed to failure" argued Tamebay's Chris Dawson at the time. "For a marketplace to flourish, a more open approach is required," he added, even if that means openly competing with listed merchants.
Tesco Direct's failing need not write off the possibility of another grocer marketplace, though. Creating one and integrating it into e-commerce operations is now "a lot easier and cheaper than it ever was" says marketplace software provider Omnyfy CEO Fabian Rebeiro. He believes it "extremely likely" a UK grocer will soon launch.
Tesco and its rivals will have learnt a lot from Direct, and it's important they have, Adams adds.
"Marketplaces are notoriously difficult to start and even harder to win," he says.
Dawson argued Direct's fate should not put supermarkets off the idea. "Rather than look to UK failures, retailers should consider the success of European retailers who have successfully transformed themselves into marketplaces," he wrote.