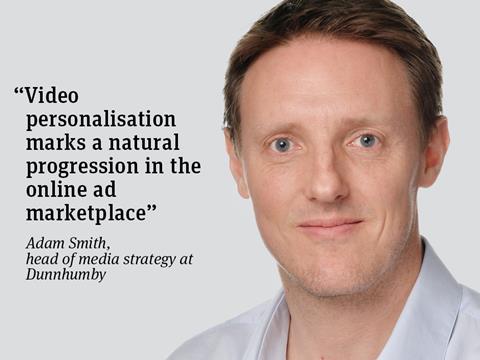 Amazon has announced it is testing personalised video ads. Reports suggest these ads will be created dynamically, making them more effective by "creating them on the fly, tailored to each user's interests… by using graphics templates, whose elements are superimposed with images and text selected by the company's algorithms".
Although details are sketchy, perhaps the real surprise is that a company with Amazon's personalisation pedigree and resource hasn't announced this before now, particularly as the concept of personalised video content is no longer new.
No doubt Amazon has been monitoring the market closely. As the old advertising adage says: "money follows eyeballs". Amazon will have seen video drive significant digital display revenue growth as consumer behaviour continues to evolve at pace. Facebook video views have jumped globally from one billion in Q3 2014 to eight billion in Q3 2015, and in the UK the IAB has reported a 51% year-on-year increase in video display revenues.
If one looks beyond the ad market, the wider cultural evolution around everyday video consumption is dramatic. Platforms like Periscope and Facebook Live have made real-time video streaming of people's lives a reality, in turn creating a world of moral and ethical quandaries around control and ownership as everything from coups to sporting event content is captured and democratised, amplified, borrowed or stolen. Similarly, entertainment apps such as MSQRD offer people the opportunity to create personalised video selfies, increasingly provided by a range of brands from Star Wars to Angry Birds. It is clear new generations of shoppers are increasingly at ease with a wide range of sophisticated and immersive video experiences.
Opportunity for brands
Video personalisation therefore marks a natural progression in the online ad marketplace. Video offers an emotive canvas to drive greater impact and engagement, to convey an entertaining brand or product story that people will want to share in a format tailored to that channel. Powered by the right data along uniquely defined customer journeys to identify particular moments of customer need or desire, video offers a compelling proposition for brands. Aligning to other more established direct and addressable CRM channels, it offers the potential to deliver a joined-up and consistent customer experience at scale, in real time.
A potential challenge is that a higher cost per impact means dynamic video will have to deliver a higher return per user to demonstrate a favourable ROI. Does the 'lower reach versus higher engagement' equation balance the simple need for efficient, mass awareness in order for big FMCG brands to reach the long tail of light and non-buyers with the purchase headroom for growth? With video being the emotive format that it is, campaign KPIs and measurement metrics will surely have to evolve to include better ways to measure long-term emotional brand building effects.
Amazon may be playing catch up with the likes of Facebook in this space, but they have no less ambition. Dynamic video ad creation builds on both an existing standard display and programmatic offering that is becoming increasingly sophisticated with the differentiating ability to incorporate both customer reviews and "add to basket" ecommerce functionality in to ad messaging to help drive conversion.
In the grocery retail sector specifically, with the launch of Amazon Fresh, Amazon will no doubt be exploring how the addition of an incremental layer of first party transactional data will complement existing browsing and contextual data from millions of real time customer journeys across their multiple platforms, in order to maximise the targeting capability fuelling its dynamic video execution.
Amazon has been at the forefront of the retail ecommerce personalisation space for 20 years. As technology, media and retail continue to converge, they will be hoping that they can translate that same retail personalisation know-how into the high margin world of dynamic digital advertising at the earliest opportunity.
Adam Smith is head of media strategy at Dunnhumby