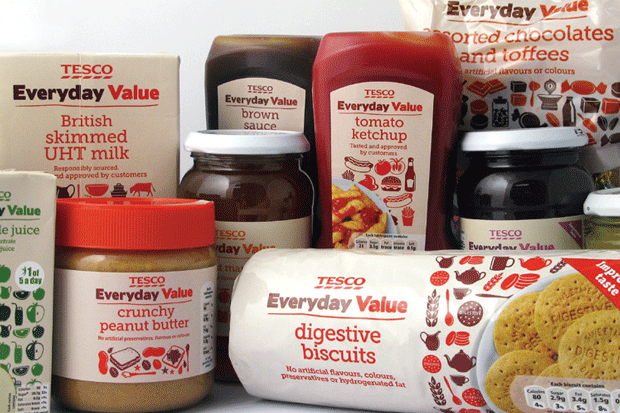 Walmart said last month: "Millennials are receptive to private brands because the offerings out there are just better than they used to be. We've invested a lot in quality. We're running our private brands like a national brand would run it today." Private label penetration in US grocery is less than half the level in the UK, but it's clear that Walmart is serious about driving growth in this segment in the US and closing the gap.
Something is also afoot in the UK, but more from the retailer own-brand perspective. Tesco was the pioneer of 'economy own brand' in the UK, launching Tesco Value in 1993. While it never accounted for a material proportion of sales, many shoppers would buy an occasional value item and it has helped boost Tesco's price credentials. The launch of Tesco Value and Sainsbury's Economy in the 1990s likely played a part in slowing the early growth of Aldi and Lidl. However, over time these ranges lost their power – partly because the discounters upped their game, and partly because the ranges did not evolve with time.
The stark packaging no longer cut the competitive mustard. Indeed, the ranges became laughable in some quarters (try searching for images related to "Tesco Value joke"). Many customers clearly decided it was more socially acceptable to shift their basket to a discounter rather than feel embarrassed whilst picking up an economy own-brand item within the big four.
Tesco was not blind to these trends, softening the packaging and then rebranding its range as 'Everyday Value' under Philip Clarke in 2012. However, one of Dave Lewis' major initiatives has been to systematically review its entire private-label offering – with dramatic changes in its economy tier. Not only has 'Value' disappeared from the packaging, but the casual observer might well believe that ranges like Eastman's (deli) or Creamfields (dairy) are independent brands. Tesco's efforts here have paid off in market share terms.
Sainsbury's has been the loser in this segment (–1.8ppt in the past 12 months) as the discounters and Tesco have reinvigorated their own ranges. Where Tesco leads, others often follow. Addressing this weakness was a key focus at Sainsbury's recent investor event. It has launched 12 brands across categories, with only the tricky health & beauty category remaining.
Of course, any retailer relaunching its economy range will not want to see sales skyrocket given their low prices and thin margins, but Tesco and Sainsbury's will hope the presence of these ranges will reduce the numbers shopping at the discounters. So far, growth of the discounters has not been obviously impacted, although their sales densities no longer seem to be increasing much.
It's a fine line, however. Sainsbury's stated a few weeks ago it did not want its economy own-brand ranges to have as large an impact as has been seen at Tesco. Of course, Sainsbury's does have a more affluent customer base than Tesco, but it will hope to boost its price image without actually driving up economy own-brand sales to the same extent as Tesco. Whether Tesco has gone too far, only time will tell – but we doubt outgoing CEO Dave Lewis will be too worried about having made his basket too cheap.