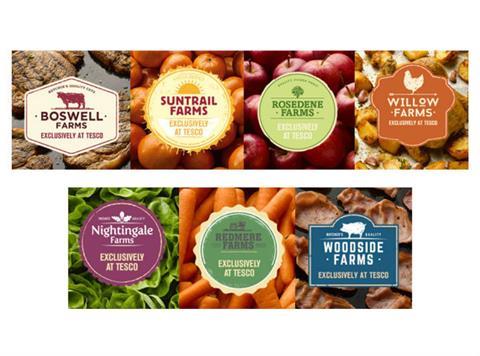 Tesco has moved to defend its new range of fresh produce and meat 'Farm' brands after critics suggested they could be misleading for shoppers.

The retailer this week announced the launch of seven own-label brands with the word 'Farms' in their names, including Redmere Farms for vegetables, Nightingale Farms for salad, and Boswell Farms for beef.

The names are newly created brands and do not relate to real-life farms, prompting the NFU and the Soil Association to express concern over the use of fictional farm names to give a sense of provenance.

Soil Association CEO Helen Browning said the use of tertiary "brands of convenience" was "deeply misleading", while the NFU's chief food chain advisor, Ruth Mason, worried shoppers might believe the farms were the actual source of the products.

"The NFU is seeking assurance that Tesco's new branding on selected food products is accurately and clearly labelled as British," Mason said.

However, a Tesco spokeswoman insisted the names on pack were clearly "brand names, not actual farms", and would not mislead.

The new range would be sourced from "existing trusted suppliers", some of whom would benefit from new orders as a result of the launch, she added.

"Every product has been reared or grown to specific standards, from known and audited farms and growers. Our strict quality standards mean that we can trace our products back to where they came from."

A total of 76 new own-label products will be rolled out under the brands, priced to either match or undercut competitors. They will replace Everyday Value products where there is duplication, such as for strawberries, grapes and lemons. The launch comes four years after a major relaunch of the £1bn Tesco Value range under Philip Clarke.