The nation's lovebirds have been locked out of restaurants and to make sure hearts still sing, the grocers have lined up a spread of new products and dine-in deals. Here's what they'll have in store
We'll be updating this article as the deal menus are announced, so please check back later if the supermarket you're interested in is missing
Aldi – from £12
Starter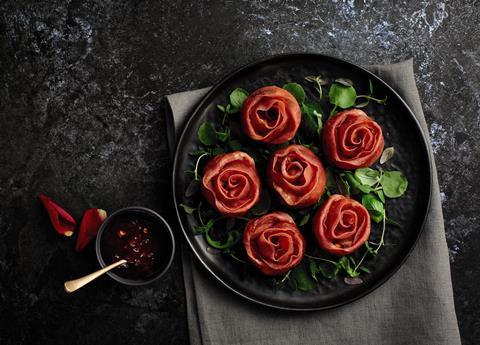 Love is like a red, red rose and so are these Thai Veggie Roses from Aldi (pictured). The plant-based filo pastries are filled with vegetables, curry paste and spices wrapped up in a floral shape, they come in a six-pack for £1.99. Other more tenuously-themed starters include Chicken Love Nuggets (£1.99) and Cupids Wings, which are chicken wings marinated with buffalo and blue cheese (£1.69), romantic. Or there are the classic Specially Selected Scottish Oysters (£3.99/6)
Main and side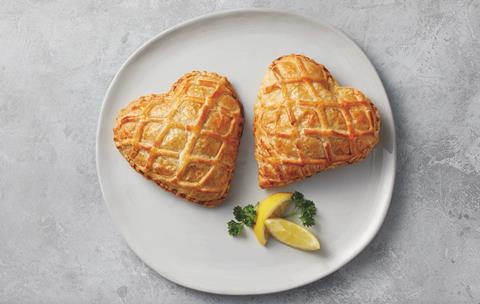 Quite the catch, these heart-shaped Scottish Salmon Encroute from the Specially Selected range are filled with a chardonnay, dill and West Country cheddar sauce (£5.99/2). On the sweeter side, there's a two pack of Specially Selected Duck Breast Portions with Plum Sauce (£3.49) and a two pack of wet-aged sirloin steaks with pink peppercorn butter (£6.49). To accompany the mains, Aldi recommends the Vegetable Medley, Potato Dauphinoise or Triple Cooked Chips with Beef Dripping (all £1.99)
Dessert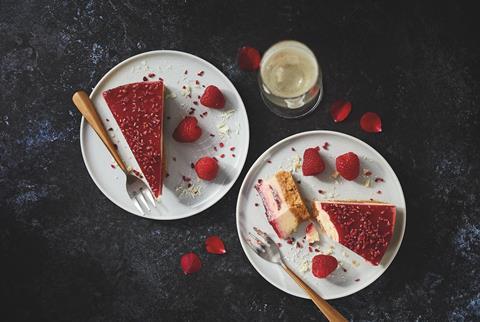 A slice way to round off the evening, Aldi will be offering a two pack of White Chocolate and Raspberry Cheesecake Slices, a stack of Profiteroles and a two-pack of vegan-friendly Chocolate Pots from the Specially Selected range for pudding, all £1.99.
Drink

The cheapest bubbly on the list, Aldi will be offering Cotellore Prosecco Frizzante for £3.99. So, when you roll in a starter, mains, a side, desserts and this bottle for two shoppers can walk away with a deal for as little as £12 depending on the products they choose.
Asda – £15
Starter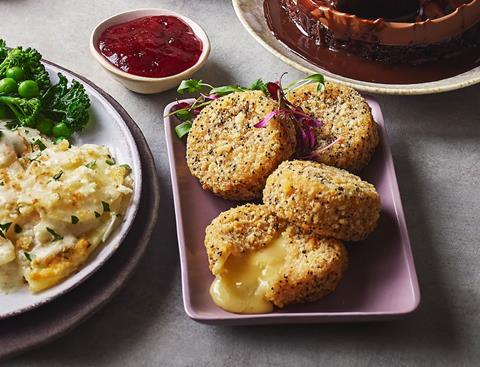 Does the thought of a romantic night in with your partner make you go gooey? Asda thinks you should complement that feeling and kick off the meal with the oozy, cheesy Breaded Camembert (pictured) with cranberry and port dip. Also on the menu, the Extra Special Duckless spring rolls come with a hoisin dip and are suitable for vegans who are just quackers for one another.
Main and sides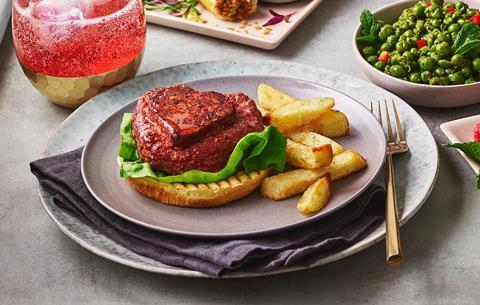 Burgers don't scream romance, but the new meat-free Melt Your Heart Burgers from Asda are heart-shaped, pink and come with a dairy-free cheesy melt topping – so what more could you ask for? Purists needn't panic, the traditional steak with pink peppercorn butter is also on the menu. The deal includes a choice of two sides: Creamy Potato Dauphinoise, Green Veg Medley, Triple Cooked Chunky Chips and Pea Crush (both pictured) are among the options.
Dessert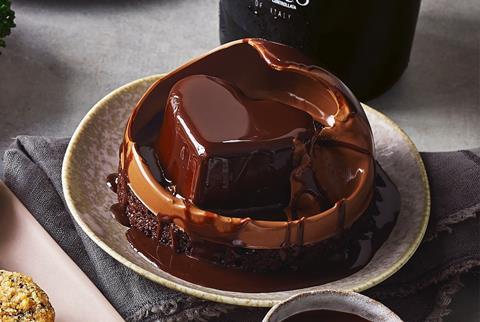 This showstopper dessert will, quite literally, melt hearts. Diners can pour chocolate sauce over the Melting Reveal Chocolate Dome (pictured) centrepiece to reveal a hidden chocolate heart middle. Less dramatic but suitable for vegans, individual Ganache Hearts with Raspberry Centres will also be available.
Drink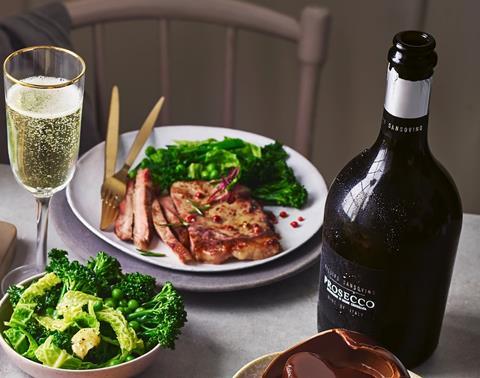 Setting you back £7 when purchased individually, the Fillipo Sansovino Prosecco is a "delicious soft and appley prosecco that's perfect for celebrations" says Asda. Shoppers also have the option to drop the drink and go for a box of Thornton's chocolates instead.
Jack's – £10 (drink not included)
Starter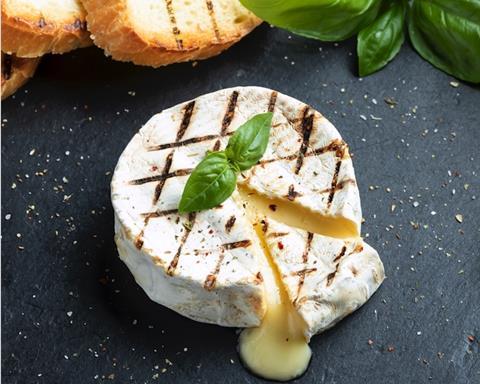 Another cheesy choice on the menu, Tesco-owned discounter Jack's is offering up a bakeable Le Rustique Camembert (pictured) and part-baked baguettes to heat up and dip at home.
Main and sides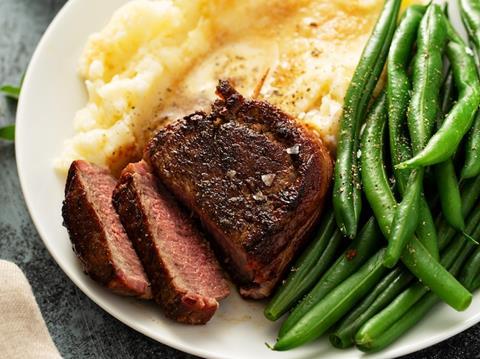 It might be the budget option but that doesn't mean lovebirds will have to compromise, for mains Jack's has two British beef steaks and two sides: Creamy Mashed Potatoes and a Green Vegetable Medley with herby mint butter.
Dessert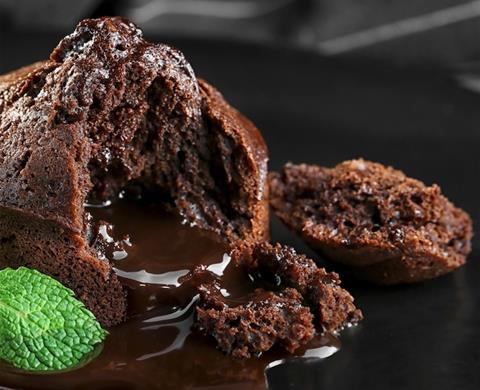 If all this talk of Valentine's Day hasn't made you melt yet, Jack's two-pack of Melting Middle Chocolate Sponge Puddings should do the trick.
M&S – £20
Starter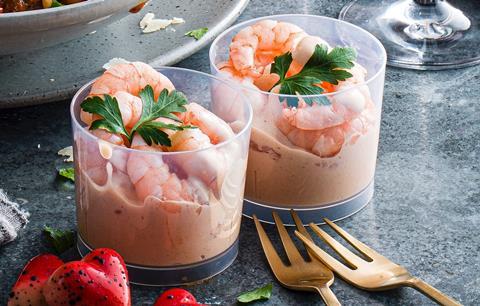 Shoppers can pick from up to seven starters including a Salmon Sharing Platter and Gastropub Duck Croquettes, but M&S thinks its Best Ever Prawn Cocktail Pots (pictured) will be the most popular way to show partners they're shrimply the best on the 14th.
Main and side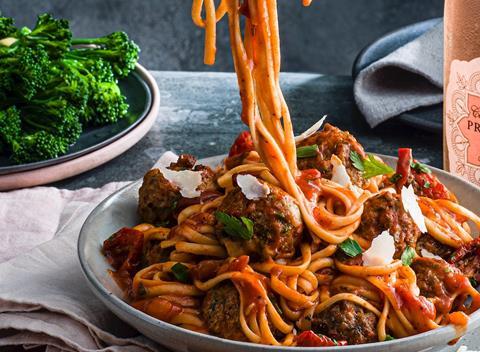 No one can deny a steak on Valentine's Day is a time-honoured classic, but can you have a romantic Lady and the Tramp meatball moment with a chunk of sirloin? No you cannot. Which is why M&S is launching the Love Linguine for two (pictured) with meatballs. However, the use of cutlery to share it is encouraged. Other options include rump and sirloin steaks, stuffed seabass fillets and Rack of Lamb with Mustard, Honey & Herb Crust.
To accompany the mains, there's Tenderstem broccoli, frites, Plant Kitchen Dauphinoise and new Truffle Mash, among others.
Dessert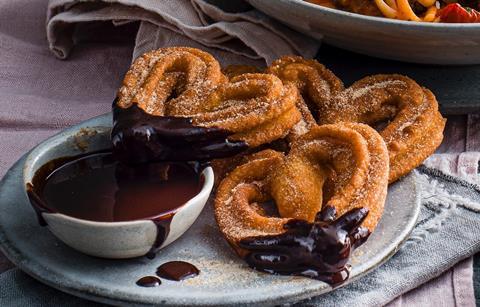 If the pandemic hasn't entirely discouraged you from the concept of double dipping, the Plant Kitchen Heart Churros with Chocolate Sauce (pictured) may be for you. If you prefer your desserts in individual servings, there are Tarte Au Citron Slices, Gastropub Billionaire's Pots and new Glittering Heart Rose Flavoured Jelly, among many other options up for grabs.
Drink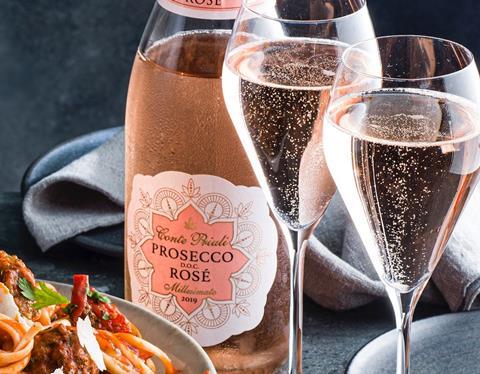 Shoppers can choose from six wines as part of this deal: Conte Priuli Prosecco Rose (pictured), Conte Priuli Prosecco, Vinalta Argentinian Malbec, Valdamera Gran Reserva Red, Tewara New Zeland Sauvignon Blanc and Macon Village Chardonnay. There are also a selection of non-alcoholic options and the deal comes with a pack of Love Bug Mini Chocolates too.
Morrisons – £15
Starter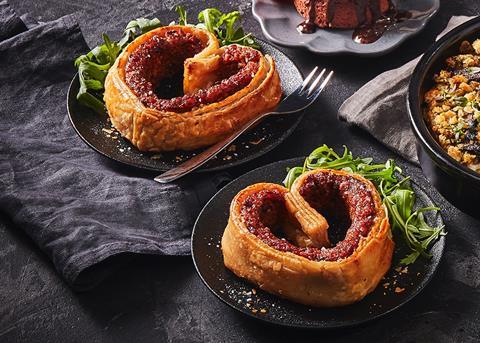 Morrisons shoppers can choose from quite the spread of dishes from its own-label The Best range, but the retailer thinks the new heart-shaped Chorizo Palmiers (pictured) will be a winner for the plant-based crowd and meat-eaters alike. Other openers include Scottish Cooked Mussels in Chianti Red Wine & Iberico Chorizo Sauce and, for those taking advantage of the ability to freshen their breath at home post-dinner, Garlic & Cream Cheese Stuffed Mushrooms.
Main and sides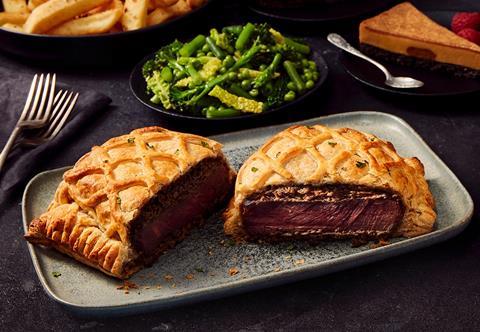 Moo-ving on to mains, the British Beef Wellington (pictured) is the headline sharing dish and it will be sharing the shelf with Salmon Portions with Honey & Fennel Butter, a vegan Mushroom & Leek Bake and Chicken Breasts with Mushroom Butter, Porcini Crumb & Mushroom Masala Sauce. Shoppers get to pick two sides in this deal: Maris Piper Chunky Chips, Vegetable Medley with Jersey Butter, Ciabatta Bread Sticks and Cauliflower Cheese are among the options.
Dessert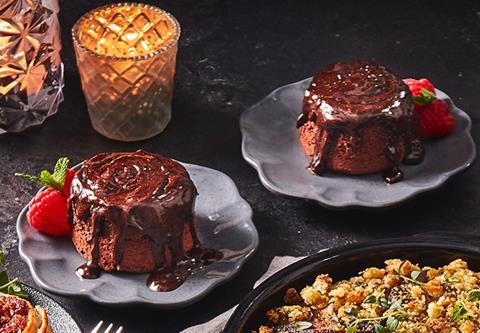 The love child of a brownie and a saucy sponge, Morrisons thinks this new Vegan Chocolate Pudding Twin Pack drizzled with chocolate sauce is the perfect climax to a romantic Valentine's meal. New additions being welcomed onto the dessert menu this year include Salted Caramel & Chocolate Profiteroles and Twin Tarte au Citron.
Drink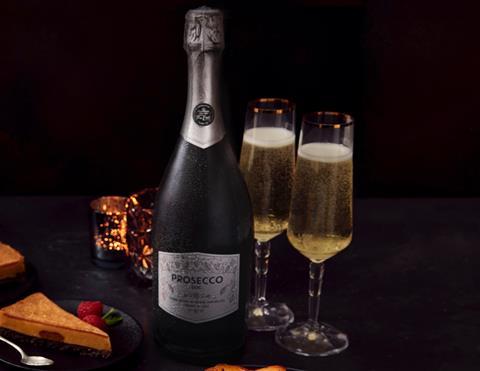 Is there anything more romantic than knowing you're getting a bargain? For savvy shoppers, the drinks selection is where the most significant saving will be made as options include Morrisons' The Best Prosecco DOC which retails for £7, The Best Marques De Los Rios Rioja Crianza which is £7.50 and The Best Chilean Merlot which is £7.75. Non-alcoholic tipples include a selection of fruit presses and premium ginger beer or customers can skip the drinks and opt for a box of truffles instead.
Sainsbury's – £20
Starter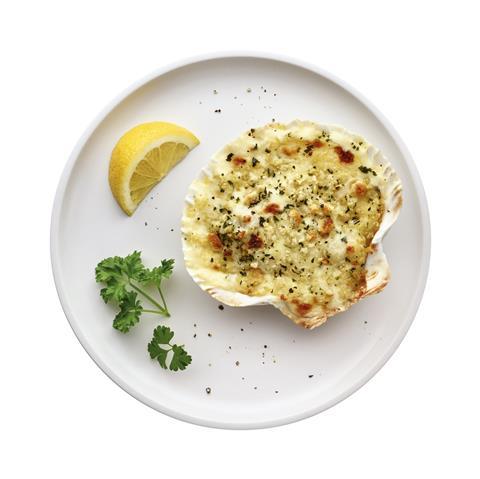 There's nothing wrong with a bit of cheesiness on Valentine's Day and Sainsbury's has a couple of cheesy options to kick off the meal. One is the restaurant-style Scallop Gratin that's served in its shell topped with a white wine sauce and cheddar crumb topping (pictured), while there's also a baking camembert that's perfect for sharing. For shoppers who would rather keep it classic, there's also the option of six fresh Scottish oysters.
Main and side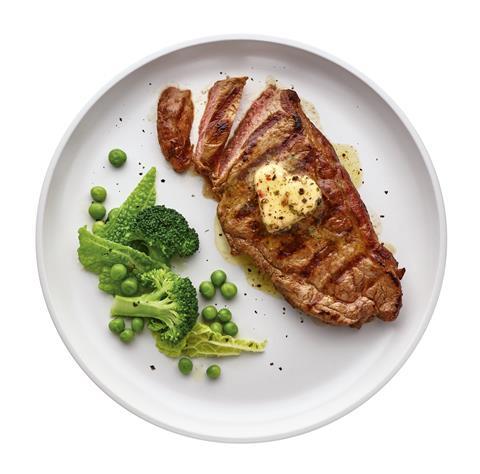 Depending on the store, Sainsbury's will offer up to 20 options for mains from salmon en croute to duck fillets, but its hero dish to get the night sizzling is its sirloin steaks topped with seasoned heart-shaped butter pats (pictured). To accompany the main, customers can choose from triple-cooked chips, potato dauphinoise, the green veg selection and many more.
Dessert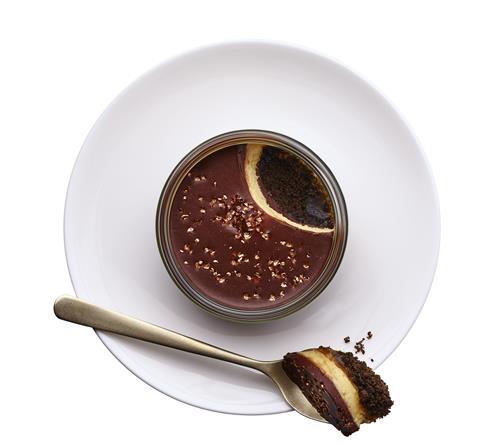 The Gü'd news is you won't have to share it. Sainsbury's is offering seven variants of two-pack Gü puddings, including Chocolate Melting Puddings and Zillionaire's Cheesecakes (pictured). For couples missing a sweet tooth, Sainsbury's Taste the Difference Strawberries are also available.
Drink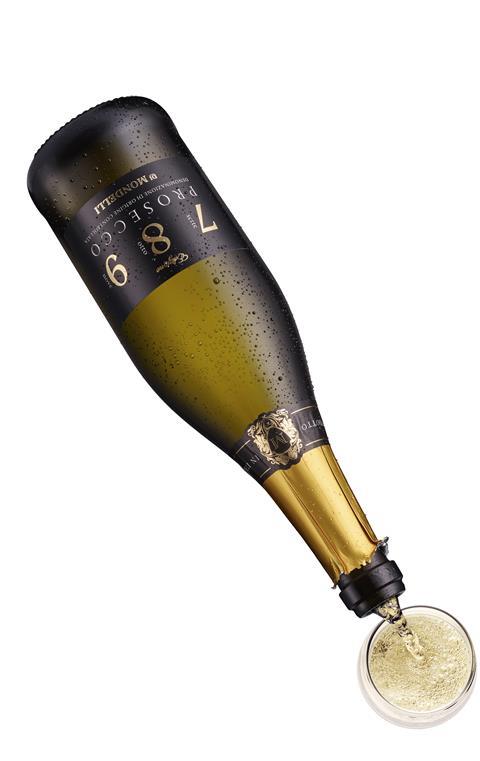 There are three drink options in the Sainsbury's menu: Italian rosé Mondelli Rosato, a Chilean Merlot by Laughing Llama (both rsp: £5) or the Edizione 789 Di Mondelli Prosecco (rsp: £6.25). Should they choose to, shoppers do have the option to swap the bottle for chocolates – Cocoa & Co Salted Caramel Truffles and Biscuit Butter Truffles are up for grabs instead.
Tesco – £15
Starter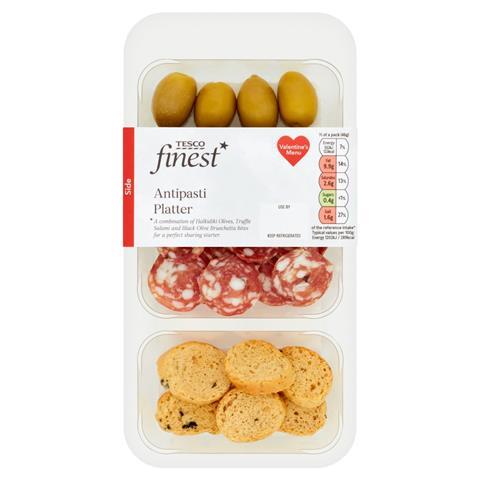 Romantic weekends away in the Tuscan hills might be cancelled but you can always opt for this Antipasti Platter (pictured) in the Tesco deal instead. Portions of truffle salami, black pepper bruchetta bites and Halkidiki olives combine for couples looking to bring the sunshine-soaked sharing platter experience home in lockdown. Other starters up for grabs include Finest Smoked Salmon and Watercress Tarts, Camembert Sharing Bread and for vegans, Wicked Kitchen Crispy Garlic M'shrooms with Smokey Ketchup.
Main and side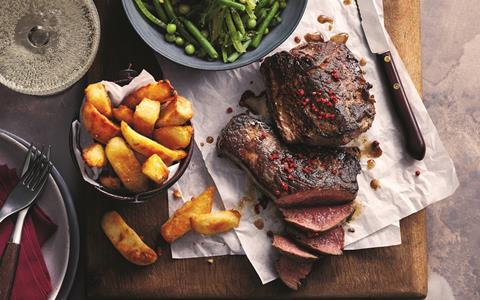 If you haven't had enough of pink peppercorn butter, you're in luck: the hero main in the Tesco menu is a two-pack of 21 day matured prime rump steaks (pictured) with, you guessed it, heart-shaped pink peppercorn butter pats. If you have had your fill, there's also a new Beef Bourguignon which has been slow cooked for six hours with shallots, button mushrooms & bacon lardons or a Scottish Salmon En Croute with a lemon butter sauce. New for those on a plant-based diet is the duo of hand-rolled beef-free Wellingtons from the Wicked Kitchen range, filled with seasoned pea protein, onion and garlic sautéed porcini and chestnut mushroom duxelles.
Dessert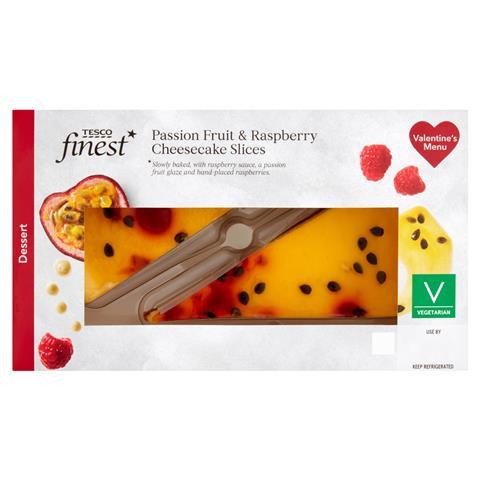 If you're worried lockdown Valentine's Day will be lacking passion, these Passion Fruit and Raspberry Cheesecake Slices (pictured) should do the trick. They're slow baked and finished with raspberry sauce, passion fruit glaze and whole raspberries. There's also a Wicked Kitchen vegan chocolate Love Brownie and a six-pack of Double Chocolate Profiteroles topped with Belgian chocolate sauce and cocoa nibs.
Drink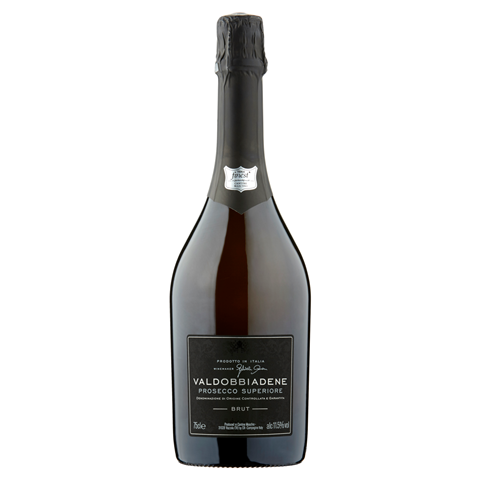 Four bottles from the Tesco Finest range are included in the dine in deal: a South African Malbec, a North Italian Pinot Grigio, a Pinot Grigio Blush and Prosecco Valdobbiadene, which has "flavours of ripe pear and white peach and a zesty, lively finish" according to Tesco. 0% abv bubbles from Freixenet and four-packs of Fentimans Curiosity Cola and Ginger Beer are available as non-alcoholic options.
Waitrose – £20
Starter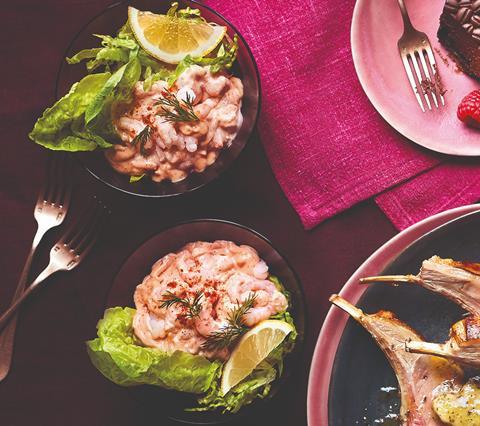 Rolling the aperitif and the starter into one, this Heston from Waitrose dish is made with wild-caught North Atlantic prawns, a Bloody Mary marie rose sauce and vanilla seeds.
Main and sides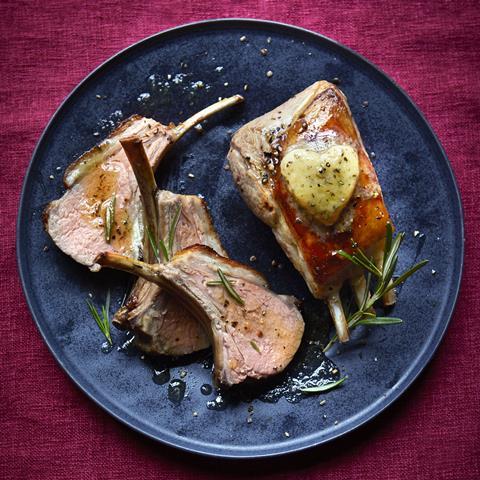 Nothing says Valentine's Day like a heart-shaped pat of butter. For the main event Waitrose is offering a rack of British grass and forage-fed lamb with roasted garlic and rosemary butter, served with sides of parmentier potatoes and a baby leaf salad.
Dessert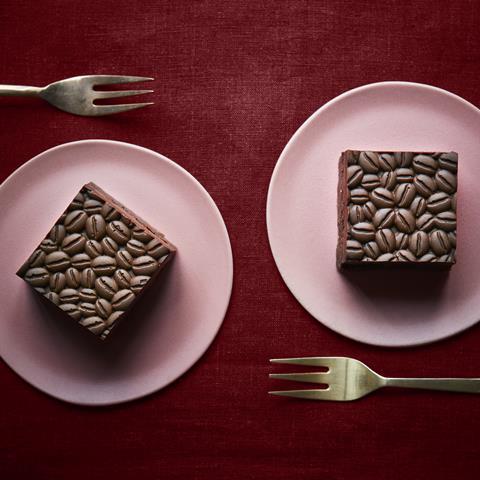 New for this year from the Heston range, espresso martini is laced through these chocolate tortes for a "rich and velvety" pudding.
Drink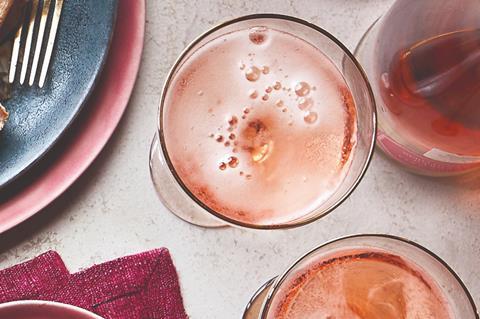 Waitrose dine-in customers can also take home a bottle of San Leo Nerello Mascalese Rosato NV, a rosé Italian sparkling wine that has "a fragrant bouquet, fresh fruity flavour and gentle mousse", making it perfect for everyday celebrations, says the retailer. It usually retails for £10.49.