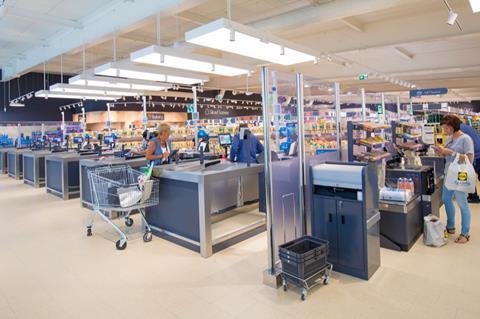 Lidl has announced a rise in minimum hourly pay from £9 to £9.30 outside London and from £10.55 to £10.75 inside the M25.
The pay rise is an investment of over £10m and will benefit 19,000 employees, Lidl said.
As the latest in a series of rises, it puts workers on 30% higher pay than five years ago.
It's set to make Lidl the highest paying supermarket across the country when it comes into effect in March 2020, unless a rival beats it between now and then.
Currently the top payer outside London is Sainsbury's at £9.20, while Aldi and Lidl take joint first place in the capital, both at £10.55.
The latest rise at Lidl makes its lowest pay rate 13% higher than the government-set national living wage. It also aligns with the Living Wage Foundation's recommendations to reflect the true cost of living, Lidl said.

"During this time of such uncertainty, we feel fortunate to be able to make this investment in our colleagues, and give them peace of mind with regards to their salary," said Lidl GB CEO Christian Härtnagel.

"Our hourly paid employees represent over 80% of our entire workforce, and are the absolute backbone of our business."

Lidl currently has 770 UK stores and this month confirmed a new target of 1,000 by the end of 2023. In June, the discounter announced a £500m investment in London store openings over the next five years.

Härtnagel said the staff enabled the "ambitious expansion plans".

"This move is, therefore, testament to the unwavering commitment that each and every one of them puts into their work on a daily basis," he added.