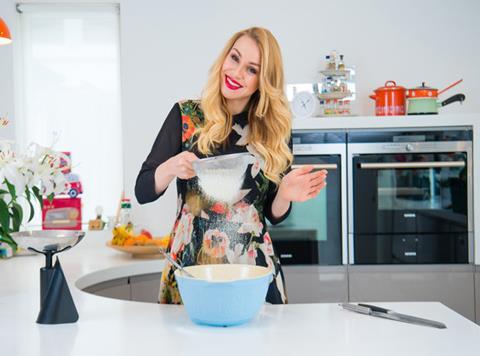 Alana Spencer looks infinitely more relaxed than she did on our TV screens. A few months ago the 25-year-old entrepreneur was putting in 16-hour days and fighting off brash go-getters to win Alan Sugar's backing and £250,000 investment on The Apprentice. "So much more intense than I could have ever imagined," she says, breathing a sigh of relief. "I was a zombie until I had Christmas off and had time to reflect."

Spencer has come a long way from her shaky start on The Apprentice. Launching her Ridiculously Rich by Alana brand to the press today, she is poised and confident in her ability to sell her cakes and brownies to farm shops, cafés and markets using a "brand ambassador" model. And when she talks about winning over a high-end retailer in the future, you get the feeling she can make it happen.

But, as she is quick to point out, it hasn't always been this way. Softly spoken and self-effacing, she wasn't the typical Apprentice candidate. And the strain of working long hours alongside a befuddling array of personalities - one boasted of "project managing" the conception of his child, another described herself as a business "Tasmanian devil" - initially took its toll.
Snapshot
Age: 24
Best career moment? Obviously winning The Apprentice, nothing else comes close!
Worst career moment? When I first started my business, I had an order for 40 boxes of chocolates for a local deli for Christmas. When I took them in she said she didn't want them as the boxes didn't have dividers in them. I stayed up all night hand crafting divides for the boxes to take them back the next day. When I took them back the following day she said she didn't want them anymore. I was 16 and learned a very valuable lesson that day to always take a deposit. It was a really big blow at the time but it didn't stop me.
Hobbies? I love horse riding. I used to ride every week but then life got in the way. I am hoping one day I will be able to buy my dream house in the country and have a horse of my own.
Favourite cake? If it's favourite of my own cakes it has to be the March special of the Toffee Pecan Slice. I am also partial to a red velvet.
Favourite TV series? It's a toss up between The Apprentice and The Great British Bake Off.
"Some of the people are people you would not work with in everyday life. So it teaches you to… tolerate people," she says half-laughing, half-grimacing. "They warn you before you go in how intense it is and how long the hours are. But you're so excited you don't listen. I thought I was going to breeze it, I went in thinking I had a very good chance of winning. But after the first week I was very doubtful."

Alana came into her own in the food tasks, persuading the team to avoid the cardinal sin of food colouring in the gin-making episode and leading the team to victory in the candy-selling task. "Those were the moments when I knew why I was there," she says.

It was this genuine passion for her business - rather than the desire for fame that entices some Apprentice candidates on to the show (Katie Hopkins, I'm talking to you) - that propelled her to becoming a worthy winner. Coming from "a family of foodies", Alana started selling artisan truffles at school. "I wanted to be self-employed and I loved food, so my Mum bought me a book on how to make artisan truffles. My first customers were my teachers."

Doing "not very well" in her A-levels spurred her on to turn this culinary prowess into a career. "My parents said, 'Just go into business, you've got something good there.'"

Realising fresh cream truffles had a limited shelf life, Alana began baking and her current business of gooey, melt-in-the-mouth cakes and brownies was born.

Alana spent a few years selling to local farm shops, delis and food festivals, and was keen to broaden her business beyond the limits of her home town of Llanrhystud, West Wales, but was turned down by Junior Apprentice soon after leaving school. Being turned down was probably "a blessing" as it enabled her to secure the far more significant £250,000 investment from Lord Sugar in the adult series.
Waffling
Apprentice viewers may be surprised to hear the tough-talking magnate behind the show has remained hands-on since her win. "Lord Sugar said run everything past me so I literally do. And he comes back pretty much straight away with a yes or a no or a change. I even sent him the brand ambassador application form and he sent back an amended version."

The brand ambassadors - 20 regional salespeople who will get the Ridiculously Rich by Alana brand into outlets across the country and provide a regular point of contact - were in fact the brainchild of Lord Sugar. "He was saying, 'how do we get this out there?' He and some of his team said, 'why don't you talk to other people who do these events and see if they'd be interested in selling these products?'"

Essentially, he will help with anything apart from - as Alana puts it - "waffling". "He just doesn't like excess and unnecessary words, he likes you to get to the point. Under his concise guidance, the first year will concentrate on the brand ambassador programme and subscription model, in which customers can get a monthly box of "favourites" like Rocky Road and things that are a "bit different" such as the chocolate and peanut butter fudge cake, delivered for £12.99. They are, as the name suggests, ridiculously rich.

Admittedly, she isn't the first person to launch a high-end brownie brand. Other companies out there such as Bad Brownie got there first with their similar business model and Amazon Fresh listing. But the combination of Lord Sugar's backing and the publicity from the programme - her cakes website went "crazy" on the night of the final - makes Alana visibly confident of her brand's future.

Being on The Apprentice has already opened doors in terms of interested buyers, she says. And she is buzzing with ideas for the future. A listing on notonthehighstreet.com is imminent, plus she'd love to do a 'by Alana' brand for the national coffee chains in the future. And, she would be "very, very keen" if a high-end retailer came knocking.

Ultimately, her ambition is to become "a leading player in the luxury cake market". And if the taste of her brownies is anything to go by, those 16-hour days may just have been worth it.