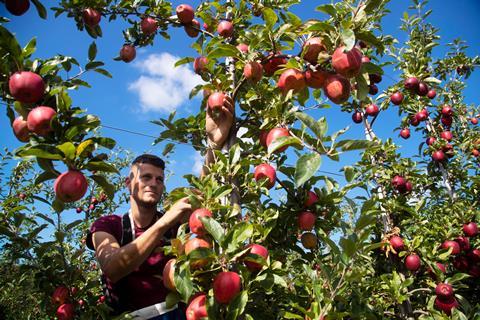 Migrant workers could be flown into the UK on specially chartered flights as the fresh produce sector rushes to avoid coronavirus-related labour shortages.
Flying workers in from countries such as Romania and Bulgaria is one of a number of options said to be under consideration amid fears of an approaching labour pinch point caused by a mix of self-isolation, anticipated school closures and Easter.
These concerns have been put to Defra in a series of emergency meetings with food supply chain bodies over the past week, The Grocer understands.
With crops such as asparagus currently being harvested, and the soft fruit season beginning soon, the sector hopes to recruit as many as it can of the required 70,000-80,000 seasonal workers the UK needs every year.
"There are serious concerns about labour availability," said British Summer Fruits chairman Nick Marston. "Government support will be critical. There's a live discussion about facilitating the movement of people on dedicated flights among other routes of transport.
"We need the government to classify food supply chain workers as key workers. This would mean that our supply chain including harvest and packhouse staff on our farms, would be protected.
"We also need the government to give us clarity on whether workers we have already recruited from overseas can travel to the UK to work."
Marston added that even with government action, there were likely to be shortages of labour. But he hoped the current situation would drive a change in attitudes towards sourcing migrant workers in future.
According to the latest NFU figures, 99.8% of seasonal workers who came to the UK in 2019 were from the EU. The remaining 0.2% was made up of British workers and those from the rest of the world.
However, while seeking to recruit labour from abroad was one problem, encouraging those labourers to come in the current climate was another, according to Sarah Boparan, operations director at Hops Labour Solutions.
"There's a lot of anxiety and a lot of negative media portrayals of coronavirus in the UK, amongst other things," said Boparan.
"We're trying to reassure any EU worker that it is a safe place to come to. Our farms have got lots of protocols in place."
Hops has been working with other labour providers such as Concordia to charter aircraft from Bulgaria and Romania in a bid to ensure businesses get as much access to essential labour as possible.
Boparan added that she hoped any domestic labourers who had lost work because of coronavirus would also get in touch.
"We need them for the short term, but these are also year-round jobs. We'd happily continue to employ them if they wanted to stay longer."
One sector particularly being targeted by food supply chain companies is hospitality, which is anticipated to take a major hit as people self-isolate and avoid public spaces.
But not all companies are convinced these workers will be willing to transfer to working in fields.
"People in the UK who would normally work in hotels, bars and restaurants may be available for work, but they might not be in the right mindset to start working in the fruit industry," said Tim Chambers, MD of berry grower Chambers.
"There will be a shortage of workers, which will most likely result in us harvesting less and not all business will make it through. Even with the government increasing the amount of workers under the SAWS scheme, it will still not be enough."
Chambers pointed out that some EU states had sealed their land borders, although at the time of writing Romanian and Bulgarian airspace remained open.