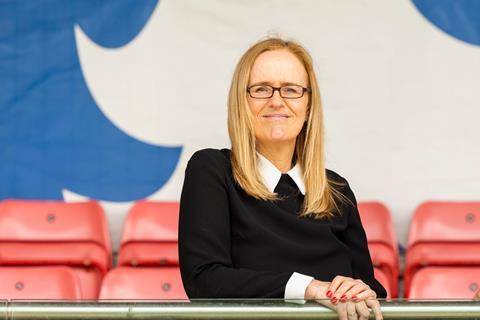 M&S Food marketing director Sharry Cramond has been appointed the company's director of hospitality.
Cramond, who has been the food division's marketing chief for over four years, will now also oversee all 330 of M&S's in-store coffee shops.
She said she was "super excited to lead this area" alongside her marketing role as there were "huge opportunities for growth".
Posting on her LinkedIn page, Cramond called for her followers to share their experiences of having coffee or food at an M&S shop as she gears up for the new role.
M&S has been focusing on revamping its hospitality and foodservice departments. Earlier this year, M&S Food partnered with Costa Coffee to supply its shops with an array of takeaway products from salads to sandwiches.
Last year, now-CEO Stuart Machin told The Grocer one of the key areas for improvement was the in-store cafés. The cafés used to fall under his remit as Food MD but will now be Cramond's responsibility.
"Modernising hospitality is a key feature of our transformation – our cafés give us the ideal window to showcase the quality and trusted value of M&S Food and help drive footfall into our stores, so there is a clear synergy with our marketing strategy," an M&S spokesman said.
Cramond, a former Tesco group marketing director, has spearheaded many of M&S Food's successful marketing campaigns throughout the business's transformation strategy of the past few years.
They include the ITV collaboration Cooking with the Stars, which just started a second season, a recent partnership with the UK's national football teams to improve healthy eating for customers, and Percy Pig's first TV appearance on last year's Christmas ad, voiced by Hollywood star Tom Holland.
Prior to her current role, Cramond spent nearly four years at Coles in Australia before moving to the US to become chief marketing officer for Southeastern Grocers.
However, it was with Tesco that she kickstarted her career in grocery, where she spent around 12 years occupying a variety of marketing roles.
Cramond is also the author of 'Win Your Lottery'.