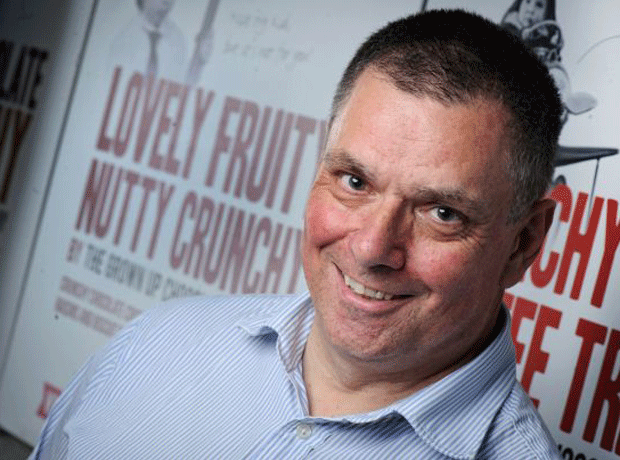 Ever wondered what a pimped-up, super-premium Snickers bar might taste like? Or a handmade, high-quality Toffee Crisp? Thanks to The Grown Up Chocolate Company, you need wonder no more.

Founded two years ago by chocolate entrepreneur James Ecclestone, the Enfield-based company counts the likes of Booths and Fortnum & Mason among its 300 UK customers. TGUCC's turnover hit £200,000 during its first year of trading, but this figure is forecast to grow to £800,000 by the end of year two, thanks to a raft of NPD and a new factory.

Key to the company's success so far has been the high quality of its premium chocolate products. After leaving a technology role at Sainsbury's, Ecclestone launched Casemir Chocolates in 1986 - a company that supplies handmade chocolates to the hospitality industry, including 80 of the UK's top 200 hotels.

Then a couple of years ago Ecclestone decided to take the business "sideways" - and do a retail brand. "I woke up with the idea of taking the bars we enjoyed as children and reworking them," he explains. "It wasn't about doing it Heston-style. We wanted to make all of the family favourite chocolate bars, but with beautiful ingredients."
"We wanted to make all of the family favourite chocolate bars, but with beautiful ingredients"

James Ecclestone
The first four bars off the production line were Crunchy Praline Wonder Bar, Fruit and Nut Hunky Dory, Glorious Coconut Hocus Pocus and Salted Peanut Caramel Cracker. Bars were soon "flying off the shelves", particularly at Booths, and Ecclestone is now preparing to launch Dark Chocolate Smoothy, Lovely Fudgy Crunchy Munchy, Crunchy Crispy Toffee Trilogy and Very Naughty Nutty Nougat, in addition to mini bars and a bite-sized pieces sharing box (the company already produces tasting boxes).

To meet anticipated growth in demand, the company has just expanded into new premises. "We're jam-packed at the moment already, so we're moving to a new unit in Harlow. We'll continue to make the loose here, but we will make the bars over at the new site."

The downside is that Ecclestone has had to finance this expansion himself . "The banks are closed to risk-based lending at the moment," he says bluntly. "We've got an order book full to bursting, so we have to take on new premises and five new members of staff, but you can't get traditional funding to do this."

He vented his frustration to Vince Cable when the business secretary visited TGUCC earlier this year. "It's part of my crusade to explain to the government how simple it is to sort out small business finance so I gave him a list of ideas."

Ecclestone also has plenty of ideas for his own business. Exports account for about 66% of volumes sales and he intends to build on this. He's also keen to secure a listing with one of the UK multiples, although he stresses he's not prepared to compromise on quality to meet a set price point. "It's vital that we continue to make our products by hand, using high-quality ingredients. Then you find the price," he argues.

"Take the Salted Peanut Caramel Cracker. We use jumbo whole roasted peanuts and we crush them - we could use splits and rejects, but we don't. We also use an expensive java-based milk chocolate, and we make the caramel by hand. All of this has a cost associated to it, which is why the bar comes out at £1.49."

It may sound like a grown-up price tag, but you're getting a grown-up bar of chocolate - and that's what TGUCC is all about.