The food tech business plans to produce masses of mycoprotein
Food tech business Enough last week delivered a shot in the arm for the meat alternatives category, offering an inconvenient counter-narrative to headlines describing the sector's demise.
The Glasgow-based ingredients company raised €40m (£34.2m) from (mostly) existing investors to build a second line at its Dutch factory and produce more affordable mycoprotein on a massive scale.
Enough's ambition is to produce one-million tonnes of mycoprotein by 2032, which it says will mean five million fewer cows and 1.3 billion fewer chickens needed to feed the world, reducing CO2 emissions by five million tonnes.
Formerly known as 3F Bio, Enough was founded in 2015 by Jim Laird, David Ritchie and Craig Johnston at the University of Strathclyde to find a long-term solution to reliance on carbon-heavy animal protein.
CEO Laird – a food industry veteran of 30 years-plus – was no stranger to the benefits of mycoprotein, having worked for Quorn from 2006 to 2011.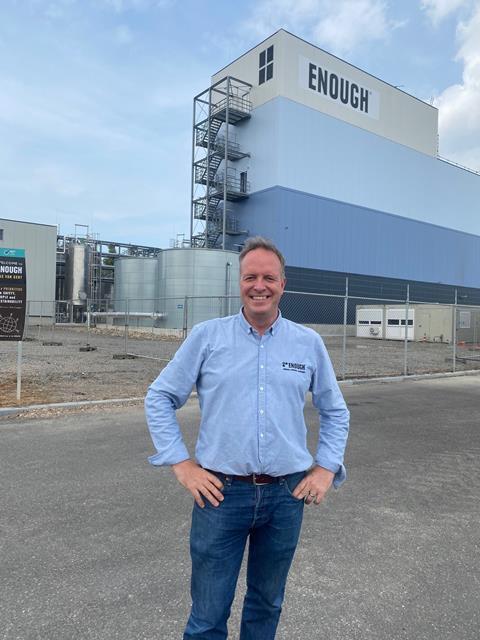 However, he stresses Enough is "not competing against Quorn" but "against chicken".
"What excites me for the [plant-based] category – that is still dominated by low-quality food and is just not price efficient yet – is producing a product to replace whole muscle chicken breast," Laird says. "Making the everyday protein shoppers consume and not just replicating things covered in batter and crumbs."
But given recent upheaval in plant-based, with businesses collapsing, others struggling and big food producers pulling out, do consumers really want a chicken replacement?
"The narrative of the demise of the category is overdone and ignores successes," Laird says.
"Meat-free has grown a lot since 2015, but is still only 2% of the protein market."
Meat-free future
Despite the negative headlines for plant-based, a City source points out that the need for producing affordable protein without damaging the environment has not disappeared.
"Meat is just not a protein source the planet can rely on for the long term, and Enough has seemingly convinced investors it is potentially on to something here," the dealmaker says.
Enough's patented zero-waste process of feeding fungi with sugars from grain – sourced from food giant Cargill, which has a factory next to its facility – is "inherently more efficient than growing a cow or chicken", using up to 97% less water, 97% less feed and causing 97% fewer CO2 emissions, Laird says.
Get more from The Grocer
Once the second line is up and running, its output will be the equivalent of growing one cow's worth of protein every two minutes.
And the fermentation production method also offers a potential answer to consumer fears over ultra-processed plant-based foods.
Enough likens the "natural process" to making beer, tofu, kombucha, yoghurt or sourdough bread and advertises its "highly nutritious" Abunda (the trademarked name of its mycoprotein) as "rich in protein and fibre, with nine essential amino acids, zinc and iron".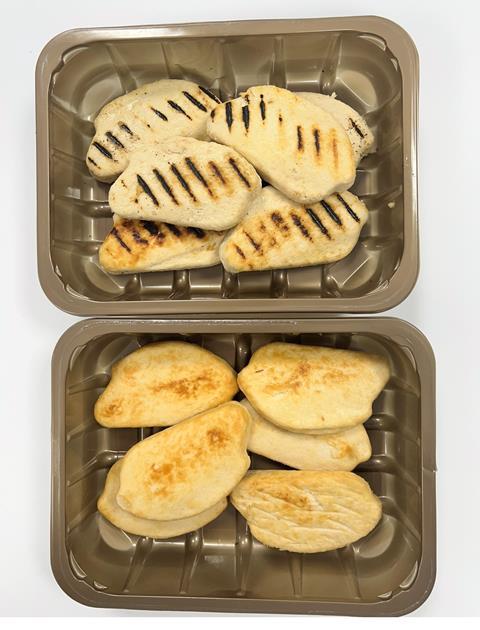 Enough's products are not yet on shelves, but the company is gearing up to launch later this year, having started sampling with its partners, including the likes of Unilever and Plukon Food Group, one of Europe's largest poultry processors.
And though "building the fermentation process is highly expensive and needs a lot of capex, once it is built and volume is filled, it is highly profitable", the City source says.
The Boston Consulting Group predicts at least 10% of meat, eggs, dairy and seafood eaten around the world will come from alternative sources by 2035, with UBS forecasting an increase in demand in Europe for plant-based protein of up to 400,000 tonnes a year by 2027.
On those figures, Enough's ambitions for 60,000 tonnes a year looks low.
"It shouldn't be a controversial statement that in five years' time the alt protein market is not anything other than a private label market or a customer brand market," Laird says. "It needs to be commoditised and affordable. None of us buy branded chicken right now. None of us buy branded beef."
It has taken eight years and close to €100m investment for Enough to get to this stage, but the rewards – for investors and the planet – could be high.