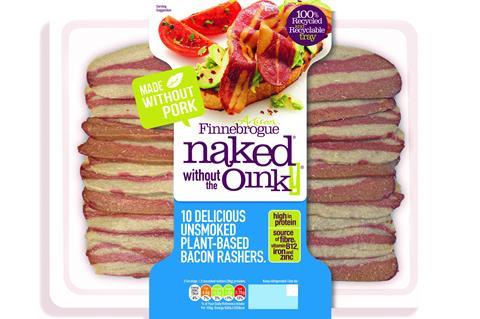 Finnebrogue has targeted health and climate-conscious consumers with the launch of a plant-based bacon product into Tesco.
Rolling into 600 stores from today (22 September), the "made without the oink" bacon is part of the Northern Irish brand's recently launched Naked range of plant-based SKUs (rsp: £3/180g).
The NPD is pea protein-based and is said to be high in protein as well as a source of fibre, vitamin B12, zinc and iron.
Chairman of Finnebrogue Denis Lynn said the launch was part of a brand mission to provide food "which is good for our customers and good for the planet".
"We looked at what was wrong with the plant-based bacon products already on supermarket shelves in order to figure out how to make our plant-based bacon the best it can be," he said.
"There really is nothing like the taste and smell of proper bacon – but these delicious rashers are [meat-free] so absolutely everyone can be part of that special bacon eating experience. It's not quite the same as the real thing, but we think it's getting there."
Alongside the NPD, Tesco will also be listing Finnebrogue's additive-free Naked pork sausages.
In May, Finnebrogue unveiled plant-based versions of its nitrite-free Naked meat brand which were initially rolled out into Waitrose.