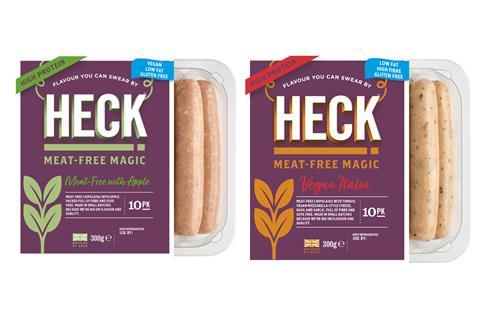 Heck has announced an extension to its plant-based range with two new vegan sausage SKUs going on sale this month and an oat drink said to be in development.
The Yorkshire-based sausage brand will launch a vegan version of its bestselling Chicken Italia line in Asda stores from 14 September, which will then go into Sainsbury's from the following week (rsp: £2/10-pack). Meat-Free with Apple and Vegan Italia will also roll into Tesco from 21 September (rsp: £2/10-pack) alongside a new pork chorizo product (£3/six-pack).
Both new vegan products are made from pea protein, with the Vegan Italia SKU containing vegan mozzarella-style cheese, tomato, basil and garlic.
"The new launches are in direct response to talking to our consumers about what they want from us," said co-founder Jamie Keeble.
Keeble also revealed that plans for a new Heck oat drink were in their early stages. "We are already gluten and dairy-free in most of our range and the free-from message sits well with our core values. I am a huge fan of oat milk and really think the Heck brand will do well in this sector," he added.
Heck would aim to source only UK oats for the drink. However, no launch date has yet been mooted.
The news comes as Heck is also seeking to expand into the low & no arena with a zero-alcohol beer in the pipeline for 2021. First revealed by The Grocer in September last year, the idea is part of the brand's plan to diversify its business and improve sustainability.
At the time, the company was understood to be considering the viability of growing fava beans on the farm to make the beer gluten-free beer and to promote good soil health.
Last month, Heck unveiled its first-ever mince SKU which Keeble said had so far had a "fantastic response". This summer also saw it move into TV advertising for the first time with it set to appear on Channel 4 for another two weeks.