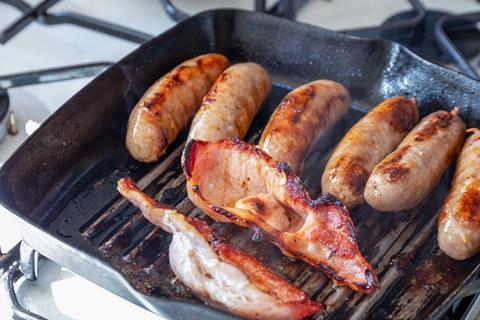 Value sales in other meat categories such as fresh pork and beef also rose

Sales of plant-based meat alternatives are also up, although year-on-year sales growth has slowed
Locked-down Brits have reignited their love affair with the fry-up, with sales of sausages and bacon soaring and the number of cooked breakfasts served at home almost doubling.

Value sales of fresh sausages are currently up 6.6% on last year at £640.5m, according to IRI [52 w/e 9 April], while bacon sales are up 3.4% to £840.8m.

But sales rocketed in the four weeks to 9 April - which encompassed the collapse of the foodservice sector, supermarket panic buying and the first fortnight of the government's lockdown - with value sales of sausages up 30.8% on the same period last year, and bacon sales up 29.6% [IRI].
Unit sales are also up, by 22% for sausages and 20.9% for bacon over the four-week period, while value sales in other meat categories also rose, with fresh pork climbing 25.5% and beef growing by 19.2%.

The upturn marks a recovery for the oft-maligned bacon category in particular, after it lost 4.7% in value (representing a fall of £56.8m in value sales) across the mults last year [Kantar 52 w/e 14 July 2019] amid concerns over possible links between processed meats and cancer, and wider changes in breakfast habits.

It comes as data from Kantar shows the number of cooked breakfasts served in households grew from 11 million to 20 million during the four weeks to 19 April, as consumers adjusted to the reality of lockdown.
This showed the "British public's love of sausage and bacon is evident", claimed AHDB retail insight manager Rebecca Gladman.

"Breakfast habits have definitely changed," added Heck Foods co-founder Andrew Keeble. "Everyone's eating at home and we've definitely seen an uplift in sales during this period."

As The Grocer reported last week, sales of plant-based meat alternatives have also been up during the coronavirus crisis. However, year-on-year sales growth had slowed, stressed Gladman.

Citing Kantar data for the four weeks to 19 April, she said the proportion of households buying meat-free products had dropped, with 12.5% of British households buying into the meat-free category, down from 13.8% during the same period in 2019.

At the same time, household penetration of primary red meat rose to 71.1%, up from 67% a year ago. The higher price point of meat-free products (at £7.45/kg on average) could be a contributing factor, Gladman added, meaning the products were more expensive than the main meat proteins with the exception of lamb.
With 85% of consumers worried about the financial implications of the coronavirus crisis [CGA BrandTrack survey, April], the slowdown in sales of meat alternatives and the bounceback in meat sales suggested some shoppers had made a "conscious decision to reduce their purchases of meat substitutes since lockdown", Gladman said.

According to an AHDB/YouGov Consumer Tracker poll from last month, of those who had bought meat substitutes, "nearly a quarter claim to have bought less since the lockdown, significantly higher than the 12% who claim to have bought more", she added.