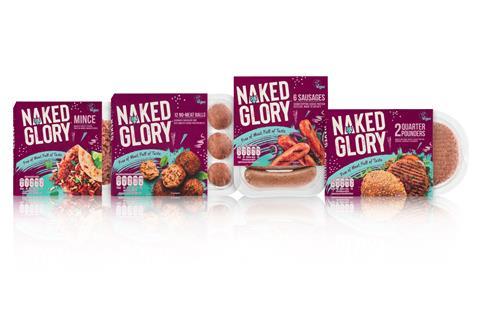 Kerry Foods is targeting flexitarians with the launch of its first plant-based brand.
The company said it wanted to disrupt a "severely under-delivering" market with the new brand, Naked Glory.
Its debut range consists of four SKUs – No-Meat Balls, Chilled Sausages, Mince and Quarter Pounders – all of which will roll into Tesco and Morrisons from 23 September (rsp: £2.75/pack), with further launches planned.
All the products in the range are made from soya protein along with wheat starch, chicory root fibre and a blend of oils, which Kerry said gave them a "juicy, succulent texture" and "meaty chew". Natural smoke extract has been used to add barbecue flavours.
"Our aim from the start of this project a few years ago was working out how to deliver proper [meat-free] meat, because a lot of the products on the market were pretty poor," said Kerry chief innovation officer David Hamilton.
"The best-tasting meat in the world is cooked on a barbecue, so we wanted to bring that cooked smoke into the product, to take you back to what wonderful meat smells and tastes like."
Kerry brand manager Alison Lees said she hoped the NPD, targeted primarily at flexitarians, would be "accessible for the mainstream". "The market is severely under-delivering for the meat-reducing consumer who does not actually want to give up meat but still wants all of that great taste and texture.
"It is being flooded with new entrants but we feel it has reached a tipping point. There is a consumer need for a brand that is a little bit cheeky, bold, contemporary and upbeat with a broad range of products that taste amazing."
Kerry said the ingredients had all been sourced sustainably, with the soya coming from farmland where crops had been "grown for generations" in areas well away from rainforests.