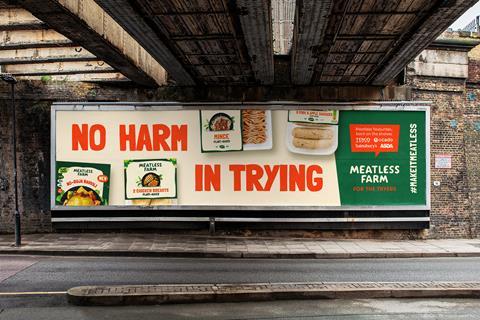 Meatless Farm has launched a new chicken and bacon tortellini SKU into Tesco.
The NPD joins the brand's two other pasta SKUs Beef, Red Wine & Porcini Mushroom Girasole and No-Duja Ravioli, which originally launched earlier this year.
Staple Meatless Farm lines are also relaunching into Tesco this month including its plant-based mince and chickenless roast, following the brand's revival over the summer.
It is also back on sale in Asda, Sainsbury's and Ocado and will supported by a national OOH and digital advertising campaign, kicking off next week, to raise awareness the brand is back.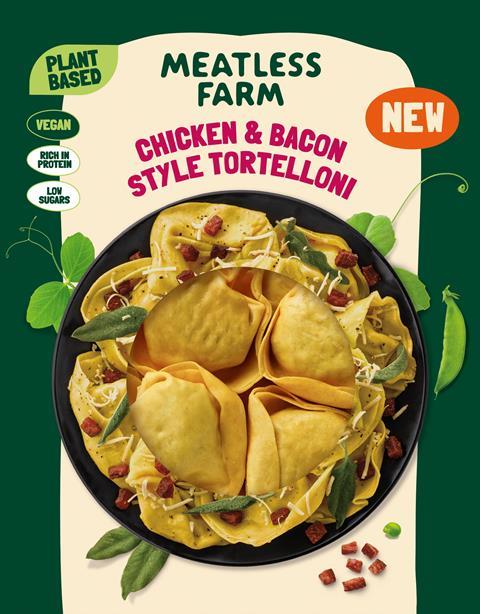 "Our customers and consumers are our number one priority, and we are delighted to deliver on our commitment of getting the range back on shelf for them, as well as launching NPD that continues to stretch the brand into different consumption occasions," said Dave Sparrow, CEO of Meatless Farm and VFC.
Meatless Farm was bought out of administration by fellow plant-based brand VFC in June with its core chilled products first back on shelves in Asda in August.
The new campaign has the message 'For the Tryers', inviting the increasing number of meat reducers to "give it a try" to protect the planet.
It will run from 25 September to 22 October across tube car panels, digital six sheets, streethubs and billboards, expecting to reach over eight million consumers.
The ads will also be integrated with a £2-off coupon to allow shoppers to redeem and try the range for themselves.
"It's fantastic to see the brand return to retail and we're all delighted to let everyone know that Meatless Farm is back for good via our national advertising campaign, encouraging consumers to make simple switches and give the brand a try," Sparrow added.