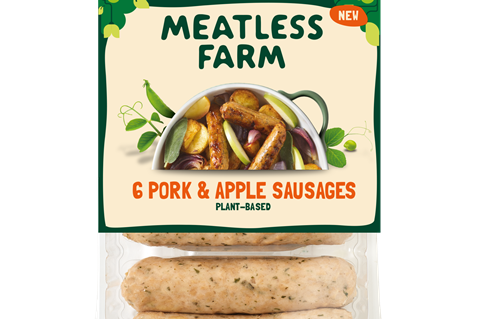 Products sold by the revived Meatless Farm brand have started to reappear in the mults, less than two months after it was rescued out of administration by rival brand VFC.
The plant-based brand's core chilled products including mince, chicken breast alternatives and quarter pounder burgers have returned to Asda stores this week.
They will be joined by Meatless Farm's more recently launched Beef, Red Wine & Porcini Mushroom Girasole and No-Duja Ravioli and a new first-to-market Pork & Apple Sausage.
The brand said it expected to relaunch into further retailers and foodservice over the next two months, supported by a national marketing campaign.
Meatless Farm collapsed into administration on 13 June after losing a battle to secure new investment.
"Getting Meatless Farm back on shelf for our valued consumers is our number one priority and we have been working tirelessly with our partners and customers to make this happen," said Dave Sparrow, CEO of the revived brand.
"Our pasta lines stretch the brand into a new eating occasion, and we're excited to be the first brand to launch a plant-based Pork & Apple Sausage, converting new consumers via a premium, top-selling flavour profile from the meat category," he added.
Meatless Farm was acquired by VFC on 21 June. Established by Veganuary co-founder Matthew Glover and restaurateur Adam Lyons in 2020, VFC (short for Vegan Fried Chicken) focuses on chicken alternative lines in both the chilled and freezer aisles, and has secured several new listings in the mults since last year.
VFC said the acquisition – financed from its cash reserves – of the brand and IP from administrators at Kroll marked "a crucial milestone" in its growth strategy and mission to provide more vegan products across retail and foodservice, with the aim of removing animals from the food chain.
It told The Grocer the future of the Meatless Farm brand would involve new product development, marketing investment and improved availability, with Meatless focusing primarily on beef and pork alternatives, while VFC would continue to focus on alt chicken.
It added the Meatless Farm products would continue to be made by its previous manufacturing partners.