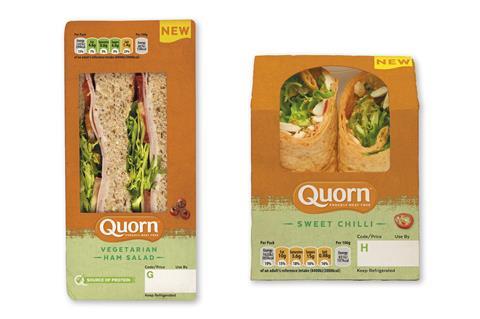 Quorn has teamed up with Adelie Foods to launch its first ever branded sandwich and wrap range.
The licensing agreement will see the food-to-go manufacturer launch four vegetarian sandwiches (comprising a Vegetarian Chicken & Stuffing sandwich, a Vegetarian Chicken & Salad, Vegetarian Ploughman's and a Vegetarian Ham Salad variant) and two wraps (a Sweet Chilli wrap and a Caesar wrap) with an rsp from £3.29.
All six lines will hit shelves from 19 August, with an initial focus on universities and educational establishments, but Adelie and Quorn stressed plans to grow the range further, and to expand availability into the convenience channel and across the mults "in the near future", said Adelie commercial director David Guy.
"The meat-free category is largely centred around planning meals at home," added Quorn business development director Andy Smith.
But citing YouGov research commissioned by Quorn in 2018 – which revealed 52% of UK consumers were reducing their meat intake – he added there was a "big demand for more meat substitutes and vegetarian options in the on-the-go channel".
After the success of its partnership with Greggs on its vegan sausage roll and a recent trial with KFC, moving into sandwiches was the logical next step for Quorn, Smith said.
The brand was "undoubtedly a signpost brand for meat-free", added Adelie's Guy, and given the surge in interest in plant-based diets was an "obvious partnership" for the business. The new range also boasted strong health credentials, he added, with a low calorie, low fat and low salt content.
"These products will be instantly recognisable, and will drive sales for the whole category." Adelie also announced a rebrand of its Urban Eat food-to-go range this week, backed by new products and a multi-channel marketing push.
The £120m brand is introducing new recipes and flavours, including new Street Food and Deli ranges which aim to capitalise on the latest food trends and broaden its appeal in a variety of channels.