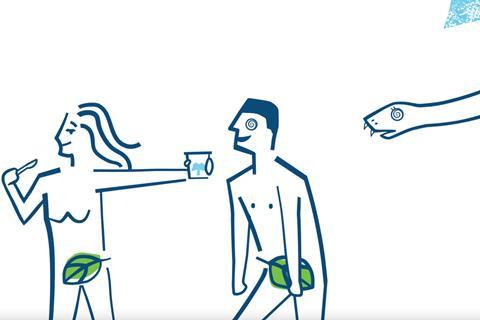 The Coconut Collaborative has announced it will hit television screens for the first time as it seeks to "tackle misconceptions" about the taste of plant-based foods.
Running from today (4 January), the yoghurt alternative brand's above-the-line campaign will take in live television, video-on-demand services, social media and billboards. It will also target consumers through data derived from Nectar.
The TV advert will retell the story of the serpent in the Garden of Eden, albeit with the coconut tree featured on the brand's packaging, and will carry the tagline, 'Free from dairy but not temptation'.
The Coconut Collaborative's founder, James Averdieck, explained the brand had made the move because of "scepticism" around the taste credentials of plant-based products.
"We're on a mission to break through these misconceptions and showcase that plant-based can be delicious, good for you and good for the planet," he said.
"The campaign really gets this point across; we've got a great team behind it who've delivered it in a short period of time and we're all excited to see it go live."
The marketing push has seen The Coconut Collaborative partner with media agency Yonder Media as well as creative firm Big Fish, which designed the dairy-free firms's branding when it launched in 2014 and also worked with Averdieck when he founded pudding brand Gü in 2002.
It comes amid a surge in interest in TV advertising among small to medium-sized brands thanks to the simultaneous coronavirus-related fall in the cost of small-screen advertising and booming TV audience figures.
Meanwhile, in addition to its advertising campaign, The Coconut Collaborative has also relaunched its Mango & Passionfruit variant now fortified with calcium and vitamin D.
Averdieck said the move was prompted by a perceived need for dairy-free yoghurt alternatives suitable for children and insisted the revamped coconut-based product would still deliver the same taste and texture as its predecessor.