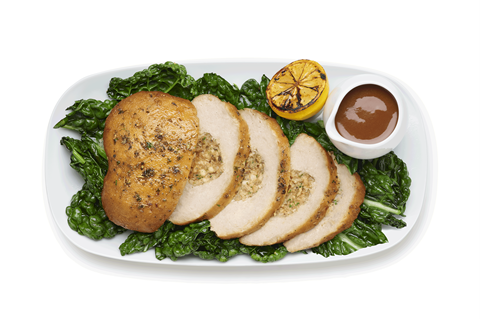 This has launched a new plant-based chicken crown alternative in a bid to help consumers elevate their Sunday and Christmas roasts.
The brand's new This Isn't Roast Chicken & Stuffing (rsp: £5.95/three portions) is made of a blend of soya and pea protein, with stuffing in the middle and topped with a garlic melt and sage sprinkle.
The brand claimed the new centrepiece product had taken a year to develop.
"Up until now going plant-based on a Sunday or in a festive period has been where hopes and dreams go to die," said Andy Shovel, co-founder and co-CEO of This. "Nut roasts? More like not roasts. We genuinely feel like we've fixed it with our new Roast Chicken & Stuffing."
It will be available for a limited time only in Tesco from 25 September and Sainsbury's from 27 September.
The new innovation will join the brand's Isn't Pork Pigs in Blankets as it returns to shelves for the third year as a limited-edition for the festive season.