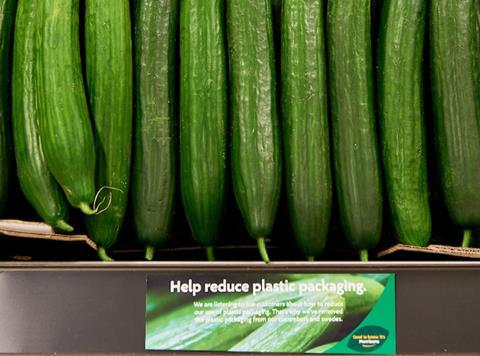 Morrisons has removed plastic sleeves from cucumbers as part of its ongoing effort to cut down on plastic use.

Cucumbers are often suggested as a prime example of food which benefits from plastic packaging, with the Cucumber Growers' Association suggesting shrink-wrapping prevents dehydration and physical damage to the product.

Despite admitting the move would reduce the shelf life of its cucumbers from seven days to five, Morrisons said it would also help cut out the use of 16 million plastic sleeves per year.

It has ditched plastic packaging from all its loose, standard sized cucumbers, sourced from both the UK and Netherlands between March and October.
The retailer said it was confident produce could be transported quickly from farm to store.

However, packaging will remain on cucumbers for the remainder of the year as it they are sourced from further afield, while mini cucumbers and pre-cut SKUs will still also be packaged in plastic in a bid to prolong shelf life.

"We are doing what we can to remove plastic packaging," said senior buying manager for salads Richard Hatherly. "While plastic can serve a purpose we believe this move will remove it from the environment without leading to food waste."

The retailer won praise from consumers on Twitter for the "fantastic" scheme, which saw it phase out the wrapping in stages this summer.

It is the latest in a number of plastic reduction initiatives by Morrisons, which has seen it replace plastic bags with brown paper bags in its produce aisle and sell discounted reusable containers at its meat and fish counters to encourage customers to bring their own in future.